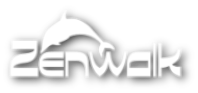 Zenwalk is a GNU/Linux distribution optimized for the i686 instruction set, but backward compatible with i486. It is based on Slackware Linux, and uses Xfce as the default desktop environment.


Origin – Home Page: USA – Zenwalk Linux
Desktop: Xfce (default), and Gnome, KDE, Compiz
Price: Free and Open Source
Reviews: Zenwalk 6.2, the latest release, has been reviewed here. A review of an older version, Zenwalk 6, is available here. You may also want to read the following related posts:
Download: Zenwalk offers a standard, core, Live, and a ZenEdu Live versions for download. The standard version comes with Gnome and Xfce desktops, and all the X applications needed for everyday use. the Core version installs the base system ,without any X applications, enabling anyone to install their own custom desktop. Both Live editions are designed to be run from CD, and offer an easy avenue to test Zenwalk without installing it on a hard disk.
Links to download or buy all versions of Zenwalk are accessible from the projects home page.