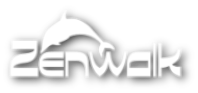 Zenwalk is a Slackware-derived Linux distribution. The latest upgrade – Zenwalk 6 – was just recently. If you have not done so already, you may read a review here. This goal of this tutorial is to help those new to Zenwalk make their desktop a little bit more, let's say, user-friendly. If you are an experienced user, you probably know how to do this already, but if not, please read on.

Here's the task list for this tutorial:
Extend the dimensions of Panel 2
Add items to Panel 2
Add more workspaces (virtual desktops)
Add users to the system
Make Exaile the default music player
Install games

Ok, Now that we know exactly what we need to do, let's get started!
Extend the dimensions of Panel 2: On Zenwalk 6, as in previous versions, there are two panels by default. The first one, referred to in the system as Panel 1 is the one you see at the top of your desktop, extending left to right across the screen. The second one, known as Panel 2, occupies just about a third of the bottom of the screen. You can call this the dock, but in the system it is known as Panel 2.
You will notice that the areas of the desktop to the left and right of Panel 2 are essentially useless. What we want to do is make use of that space, and to do that, right-click on a free spot on Panel 2 and select "Customize Panel… ." Make sure that Panel 2 is selected in the top dropdown select box (it should be if you right-clicked on Panel 2). In the second dropdown select box, select Full Width (Normal Width is the default). Click Close when you are done.
Your desktop should now look like mine below. It is half "full" (or, is that half "empty"?). Anyway, don't worry because by the time you complete the next task, it will look a lot better.
Add items to Panel 2
Now that you have more space on Panel 2, the next step is to make getting to the applications you use most often a bit easier. You do this by adding them to Panel 2. The idea is to make those items to be no more than one click away, so that instead of clicking on the Zenwalk Menu at the top left of the screen or right-clicking on the desktop, you can just click on an items launcher on the Panel.
To add items to Panel 2, right click on a free spot on it and select "Add New Items… ". The window shown below should open up.
The following are recommended items for adding to Panel 2:
Trash Applet
Mounted Devices
Workspace Switcher – there is one on Panel 1 (at the top of the desktop), but I prefer having this on the lower panel
System Load Monitor
Wavelan – add this only if you are connected to a wireless network
Show Desktop
Battery Monitor – if your system is a laptop
Network Monitor
These are just suggestions. Of course, you know better than anybody else what you need on your panel. You may also add launchers for application, for example, OpenOffice.org Writer to the Panel.
Add more workspaces
UNIX and UNIX-like operating systems used to have four workspaces or virtual desktops by default. However, many of the latest distros now have two. A few like the latest version of Linux Mint have only one. If you tend to have many application windows open at the same time and you want them in more than two virtual desktop (workspace), here's how you make more virtual desktops available. Click on Zenwalk Menu > Settings > Workspaces. Add the number of additional virtual desktops that you think you need. Four is standard, and that should be more than enough.
Adding virtual desktops


Add users to the system
Aside from the root (administrator account) user, you were able to add a regular user during installation. What if you need to add another user after the system is up and running? Here's how you do it. Click on Zenwalk Menu > System > Control Center. From the Control Center, double-click on "User Profiles". Then use the down arrow key on your keyboard to select "Create user", and hit Enter on your keyboard.
Once you hit Enter, you will have to type in the new user's name, and other pertinent information about the user in a series of windows. Aside from the user's name, here are other pertinent information about the user that you will also have to type in one after the other:
Group name – just accept the default
User's home directory – accept the default
List of additional groups – accept the default
Default shell – accept the default
Account expiration – you may choose to set the account to expire at a certain date, or select Never to disable expiration for this account
User's real name
Office info – this is optional
Work phone – this is optional
Home phone – this is optional
Password
Re-type password
Once you have confirmed the password, the user's profile is displayed. You may click Modify if you need to make any changes, or click Done.