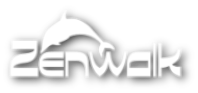 Zenwalk is a Slackware-based, Linux operating system. Version 6.2, the latest release, does not come with Java Runtime Environment (jre) installed. What that means is that your browser will not be able to run Java applets when it encounters any on the Web.
That's the bad news. The good news is that the full Java package is in the Current repository, and you can install it using Netpkg, the graphical frontend to Zenwalk's package manager.
Here's how its done:

The first thing of course is to launch Netpkg from the menu: Zenwalk menu > Settings > Netpkg or Zenwalk menu > System > Netpkg. If you have not done so already, load one of the Current repos by selecting one from the dropdown box at the top section of the window. The repo used for this example is http://zenwalk.linuxish.net/i486/current. Once selected, load the repo by clicking on the button right next to it. Once it's been loaded, type jre into the search box.
Note: You can either install the full java package, jdk, or just the Runtime, jre. For the needs of your browser, it is only necessary to install the jre package.
As shown in the image below, the search result will return the jre package. That's the one you need to install. To select it for installation, right-click on it and select Install.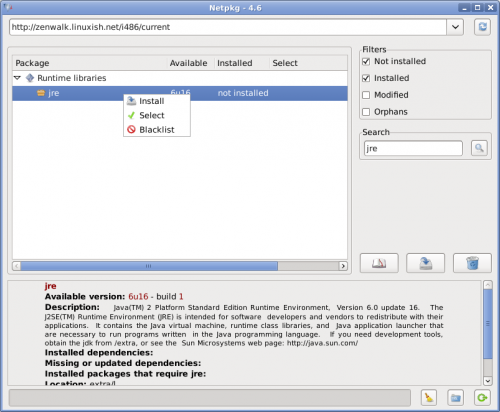 Netpkg will compute the dependencies and show you what packages needs to be installed. The version of Java available in Zenwalk's repo, Version 6 Update 16, is the latest version recommended for all operating systems. Click on the Install packages button.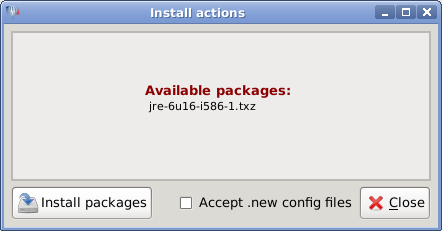 When it's done, Netpkg will also inform you of the result of the installation. Hopefully, your's will be just like the one in this tutorial.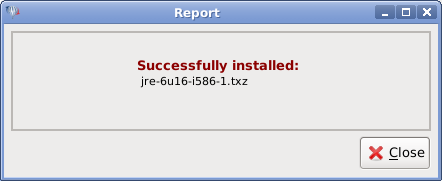 That's all there is to installing the Java Runtime Environment on Zenwalk 6.2.
With jre now installed, the next thing to do is to test your browser to see if it can speak Java. One way to do that is by visiting the official Java test site. If your browser can handle Java, it will display a page just like the one below (note: only part of page is shown in the image).