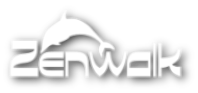 Zenwalk 6.2 is the latest version of Zenwalk, a Slackware-based, desktop-oriented Linux operating system. The last review of Zenwalk on this site was of Zenwalk 6. That was just six months ago. What changed between Zenwalk 6 and Zenwalk 6.2? Where the changes of a cosmetic or bug-fix variety, or where they much more substantial?
Let's find out.

Note: According to Zenwalk 6.2 release note, "Zenwalk 6.2 is mostly new code (nearly all packages have been updated) …"
Does that code-rewrite translate into a better user experience? Let's start with the first aspect of Zenwalk that you'll first experience – the installer, or the installation process.
Installation: The installer's interface feels slightly much more polished than prior versions. No doubt there are backend improvements that you wont notice right away, but other than that, it's still a menu-based installer, with the same installation options. The one change you'll notice, if you look, is the default journaling file system assigned to the partitions the Auto Installer creates. On older versions of Zenwalk, the default journaling file system for all partitions was xfs. However, in this version, the installer assigns the ext4 file system to the partition for / (root), and the ext3 file system to the partition for /home. For the record, virtually all recent releases of Linux distros now use ext4 exclusively for all partitions (except for the /boot partition, for those distros that create a separate partition for /boot).
By default, the Auto Installer creates these three partitions:
one for /
another for /home
and the last for swap
Lilo, the LInux LOader, is the only boot loader option available. LVM, RAID, and disk encryption are still not supported by the installer.
Desktop: The default desktop environment used by Zenwalk is Xfce. It's a much leaner and faster desktop environment than KDE and Gnome. The default wall paper has changed. Other than that, you still get the lower panel with the same icons, and two virtual desktops (workspaces) instead of the traditional four on the top panel. With two workspaces, Zenwalk fares better than Mint, which has just one. You may add more workspaces – If you need to – by using the Workspaces tool from the Xfce 4 Settings Manager.
You may customize various aspects of the desktop via the Xfce 4 Settings Manager, accessible from Zenwalk menu > Settings > Xfce 4 Settings Manager.
Compiz, a 3D compositing window manager, is not installed. It is, however, in the Current repos. If you have a 3D-capable hardware, you may install it and enjoy all the goodies and eye candy that a 3D desktop offers.
Default Installed Applications: Did not notice any difference in the default installed apps between Zenwalk 6 and Zenwalk 6.2. OpenOffice.org is still the default office suite. Also installed are:
Totem, the media player
Brasero Disc Burner
Exaile Music Player
The GIMP
Transmission BitTorrent Client
Pidgin Internet Messenger
As on earlier versions, there are no games installed. With the CD iso image at 493 MB, I think there's enough space to throw in a few oft-played games.
Although Zenwalk 6.2 features the Xfce desktop environment, the Current repos have KDE 4.2.4 applications and base packages. So you could install KDE applications if you like them better than their Xfce equivalents.
Software Management: At version 4.6, the graphical frontend to Zenwalk's package manager is noticeably faster, with dependency checking and package black-listing. It's still not as elegant as Synaptic, but for what it's designed to do, it works. At this stage in it's evolution, I was expecting that we should be able to load more than one repo at the same time. As it is currently, if you want to install an application from a Restricted repo, you will have to load it first, then search for and install the app. Want to install from a Current repo? Select and load it, then search and install. It works, just not the way we are used to with other package managers.
One tool I consider a must-have, but not installed on Zenwalk, is a system and application update notifier. I drew attention to this in my last review, and was hoping to see an app update notifier installed by default in this release. Zenwalk has the Zenwalk Update Tool (ZUT) in the repos, and like other applications, it is easy to install from the command line or via the graphical package manager. Once installed, however, you find it to be very unstable: Click on it after it has found the apps with available updates, and it will quit unexpectedly. Crash is not a good word, but that's what happens – ZUT crashes every time.