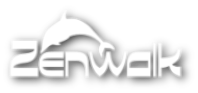 Zenwalk 6, the latest upgrade to the Slackware-derived Linux desktop distribution, was recently released to the public. As with every major distro release, Zenwalk 6 comes lots of changes, and to make it easier for you to decide whether this distro is worth trying out, we offer this review.

Installation: Zenwalk is only one of a handful of desktop distros without a graphical installer; it uses a menu-style installer. But that does not mean that the installer is difficult to use. On the contrary, it is actually very easy to use. Plus it has an AutoInstall option. The installer, however, lacks key features that we expect on a modern Linux distribution. For example, you can't configure support for Linux Logical Volume Manager (LVM), Redundant Array of Inexpensive Disks (RAID), and disk encryption.

Zenwalk 6 installer

If you choose the Autoinstall option, the installer will create three partitions: one partition for root, one for swap, and a partition for the /home directory. It would be nice in the future to have a server-style auto-partitioning option, that is, separate partitions for /usr, /var, /tmp, etc. The default journaling filesystem is XFS.
Desktop: Zenwalk 6 sports the very latest version of Xfce desktop environment – Xfce 4.6. It's a much improved version, with lots of user-friendly graphical management tools. By default, Zenwalk only makes two workspaces (virtual desktops) available for use. But that can be increased to the usual four that users of UNIX and UNIX-like operating systems are used to.
To make customizing your Xfce-based Zenwalk desktop easy, Xfce provides a set of newbie-friendly graphical tools. All of these tools are located in the Xfce Settings Manager tool (accessible from Zenwalk Menu > Settings > Xfce 4 Settings Manager).
Default Installed Applications: The following are some of the applications you will find on a default installation of Zenwalk 6:
OpenOffice.org, a free Office Suite just like Micosoft office
GNU Image Manipulation Program (GIMP), a Photoshop-like graphics application
Ice Weasel, a re-branded Mozilla Firefox Web browser
Ice Dove, another re-branded application, this time of Mozilla Thunderbird
Exaile music player, one of the best music playing applications you will find on any free software desktop
Totem video player
Pidgin Internet Messenger
The applications installed by default are just enough for the average user, but not nearly as diverse as the set of applications you will find on a default installation of Linpus 9.6 or any version of Sabayon Linux. Aside from Linux Mint, Zenwalk 6 is the only other desktop distro (reviewed on this site) that does not install any game applications by default. Not even simple card games. You can, however, install all the games (and any other application) that you need and that is available in Zenwalk repos by using xnetpkg, the graphical package manager, or by invoking netpkg from the command line.
Software Management: netpkg is Zenwalk's package management tool. With it you can install, upgrade, or remove applications by invoking netpkg from the command prompt (command line), or via xnetpkg, the graphical user interface to netpkg. xnetpkg is accessible from Zenwalk Menu > Settings > Netpkg, or Zenwalk Menu > System > Netpkg. It has a clean, uncluttered interface, and it is a lot faster than other graphical package managers.
Xnetpkg: Zenwalk's graphical package manager

One neat feature of xnetpkg is the "Orphans" filter, which makes it possible to locate the "orphans" on a Zenwalk installation, and remove them. The one apparent shortcoming of xnetpkg is that you can't add additional repositories from its interface.

Administration: With the latest Xfce, managing a Zenwalk system has gotten a whole lot easier, especially for users new to Linux. There are a bunch of easy to use, newbie-friendly graphical tools. You can access these tools from Zenwalk Menu > Settings and also from Zenwalk Menu > System. There is also a Control Center from which you may access some of these tools.
One of the admin tools you will find very useful is the Grsync tool, a graphical frontend to rsync. Rsync is a fast local/remote file copying and synchronization tool and Grsync just makes it very easy to use.
One tool that did not work is the Display tool (Zenwalk Menu > Settings > Display), which is used for changing the screen resolution. It just did not work on my test box, not even after many reboots. That essentially meant that I was stuck with a 1280×1024 screen resolution.
Zenwalk maintains the UNIX tradition of using a root or super user account to performing administrative tasks. Adding and managing user accounts is via a simple graphical tool that you access from the Control Center.