Android here, Android there, Android everywhere. You just cannot seem to turn anywhere without hearing or reading about Android – for good or bad. For the most part, though, it has been for good. The latest place it showed up is in one of Nikon's newly released digital camera's.
The Coolpix s800c, which, with the help of Android 2.3 and built-in Wi-Fi capability, enables you to do a few things you already do with your smartphone, like mess around on Google Play and use a few built-in Google™ apps, besides being able to do all the cool stuff you expect with a digital camera.
And with my Picturetown for Android app loaded, you can upload photos to my Picturetown and also download from the website to the camera.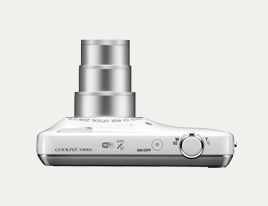 The following screen shots show what you can do with the s800c courtesy of the built-in Wi-Fi capability.

Read the full specs and watch a video here about the Coolpix s800c.