Sabayon is a Gentoo-based, GNU/Linux distribution. The latest version, Sabayon 5, was released on October 2, 2009. The GNOME edition was just reviewed here. One thing I pointed out in that review is that the NTP (Network Time Protocol) package is not installed by default. This post provides a step by step guide on how to install and setup NTP on Sabayon 5.

NTP is the protocol that allows a networked device to sync it's clock with that of NTP servers on the Internet. It allows your computer's clock to be accurate, atomic-clock accurate.
Step one is to launch Sulfur, Sabayon's graphical package manager, from the menu (System > Administration > Sulfur) or by double-clicking Sulfur's icon on the desktop. Make sure that the "Available" tab is selected, and type in "ntp" into the search box. From the search results, right-click on the NTP package and select "Install". Then click on the Installation tab to see the packages that are going to be installed.
The Installation tab shows that two packages will be installed. Click on the Commit Actions button to start installation.
When the installation is completed, you will find two scripts related to NTP under the /etc/init.d directory. These are the ntp-client and ntpd scripts. ntpd is used to maintain time on a running system. It is automatically started after installation. ntp-client is used to set time at boot. Unlike ntpd, you'll have to manually start it. To do that, launch a shell terminal (Applications > Accessories > Terminal), su to root, and type /etc/init.d/ntp-client start as shown in the screenshot below.

With that out of the way, now we are ready to set up the system to use NTP. Launch the Time and Date utility from the menu (System > Administration > Time and Date). Click on the Unlock button to gain the rights needed to change the system's time.
Time and Date utility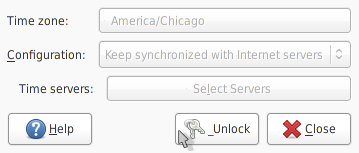 With the Time and Date utility unlocked, you'll notice that by default, the system sets its time manually. Click on the Configuration dropdown and select "Keep synchronized with Internet servers". Make sure that your timezone is correctly selected.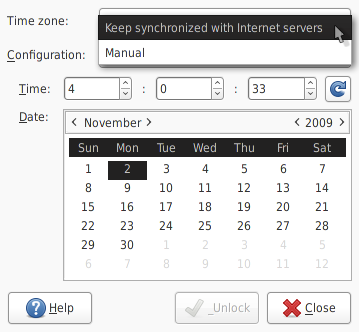 With NTP selected as the mode for setting time, the next screen presented allows you to select NTP servers to use. By default, four NTP servers are pre-selected, so you do not really need to do anything here.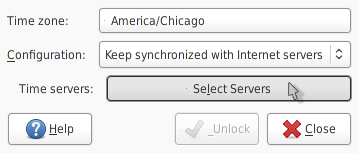 The NTP servers pre-selected by the system. You may chose to de-select those and choose the NTP servers that you prefer to use.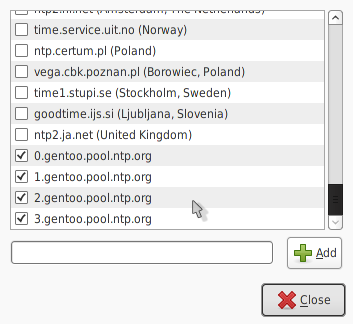 That is all it takes to install and set up a Sabayon system to use NTP to set system clock.