Debian 5 is the latest release of Debian GNU/Linux, one of the original Linux distributions. Known for it's rock-solid stability, more Linux distros are derived from Debian, either directly or by proxy, than any other Linux distro. If you are new to the world of open source operating systems and are trying to decide whether to try Debian, this review is for you.

This review is based on a default installation. This means it is essentially a review of the Gnome desktop – on Debian 5.
Installation: The Debian installer is fully-featured, and caters to both pros and noobs alike. The "entrance" to the installer has been spiced up in this latest release. Upfront, you get an Install option, which is an ncurses-based mode of installation, a Graphical install option, and an Advanced option. Under Advanced options, the installer presents automated modes for the Install and Graphical install options. Whether you choose the Install or Graphical option, it takes just too many steps to install. Some of these steps could easily be combined into one. That's just about the only complaint I have about the installer.
Debian 5 basic installer options


Debian 5 advanced installer options

On Debian, Gnome is the default desktop environment, but you have the option to install three other desktop environments – K Desktop Environment (KDE), Lightweight X11 Desktop Environment (LXDE), and XFCE. The installer is designed in such a way that only one desktop environment can be installed at a time. Most people stick with only one desktop environment anyway, so this design is actually very good. If you need to use an application from a desktop environment other than the one you are using, you could easily install it using the package manager.
Debian 5 alternate desktop environments

Logical volume management, via Linux Logical Volume Manager (LVM), is supported. Setting up a Random Redundant Array of Inexpensive Disks (RAID) and disk encryption are also supported. For journaling filesystems, Ext3, Reiserfs, JFS, and XFS are supported. Ext3 is the default. Other filesystems supported are Ext2, Fat16, and Fat32. For a bootloader, GRUB (GRand Unified Bootloader) is your only the default option.
Default Installed Applications: With Debian 5, what you get are the same set of applications you will find on a stock Gnome desktop. Not bare-bones, but nothing really very exciting. Here are some of the most important ones:
Open Office, a complete office application just like Microsoft Office, but free and open source
Ice Weasel and Epiphany for Web browsing
The GIMP (GNU Image Manipulation Program), a Photoshop-like graphics application
Inkscape, a vector graphics application
Evolution, a mail and calendar program
Totem movie player
Ekiga Softphone
Pidgin Internet Messenger
Rhythmbox, an audio player
Aside from the above, you also have the stock set of games and desktop accessories installed. Keep in mind that as with any other Linux or BSD operating system, virtually all applications you could ever need for every-day computing are available from the repos, and you can easily install them yourself. Plus, like the operating system, they are all free. Most are also open source.
Software Management: Debian is the distro that gave us APT (Advanced Packaging Tool), one of the best package management applications on UNIX-like operating systems.You could install/remove/update software using apt-get, APT's most popular command line utility, or via it's graphical interface – Synaptic Package Manager (accessible from System > Administration > Synaptic Package Manager).

Synaptic Package Manager

Administration: Access to admin rights on a Debian system is via the traditional root user account. Unlike a distro like Mandriva, which has custom-built admin tools, virtually all the admin tools you will find on a default installation of Debian 5, are the same ones you will find on any Gnome desktop. You will find them under System > Administration, System > Preferences, and Applications > System Tools. The gui front-end to the user management utility, for example, is located under System > Administration > Users. You use this utility to add/delete users/groups, and assign privileges to users/groups.
User management utility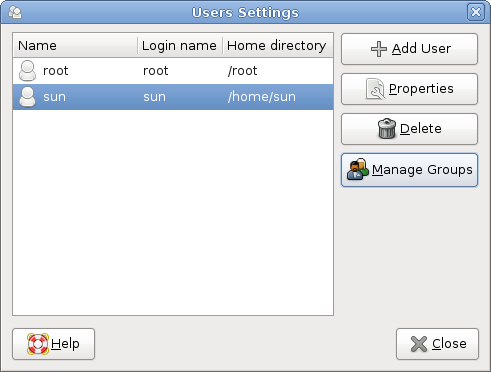 Media and Hardware Detection: If you chose the default installation, which this review is based on, you will be using the Gnome desktop. Hardware and media detection is good. Plug in a printer, for example, and the system will auto detect and configure it for you – ready to accept print jobs. Try a USB stick, and it will mount it and open its contents in Nautilus, the Gnome file system browser.
Audio CDs open automatically in Sound Juicer, a light-in-features music player. Want to use a different audio player with more features? Try Rhythmbox, which is also installed by default. For playback of DVD videos, Totem is installed, and will handle both regular and encrypted DVD videos.