Wuala is a cloud storage service offered by LaCie, a computer storage and display outfit. Wuala is supported on all major operating system platforms, and there is even an app for iPhone and iPad. Like all cloud storage services, Wuala makes it easy for you to backup, sync, share and retrieve your data from any location.
Yesterday's article about Wuala was mostly about its terms of service. (See is the Wuala cloud storage service truly private .) This article gives the steps required to create an account and start using the service in Ubuntu 11.10 and Linux Mint 12. The instructions are also valid for any distribution derived from Ubuntu or Mint. It is a very simple process.
First, download and install the client. There is a separate client for 32- and 64-bit platforms. After that, create and account, then set up the folders you would like to sync with your account on Wuala's servers.
To start, click here to download the appropriate client for your platform. You should get the window shown below. Be sure to select the first option, then click OK.

That should add Wuala's repository to your /etc/apt/sources.list file, and launch Software Manager or Software Center, depending on the distribution you are installing it on. Click to install it just like you would install any other application.

After installation, Wuala's setup window should open. If you do not have an existing account, click Create free Account.

Specify your login credentials. Note that the password your specify is not sent to Wuala, so do not forget or lose it. Also, do not forget to accept the Terms of Service. Create Account. The screen shot below shows the account setup screen.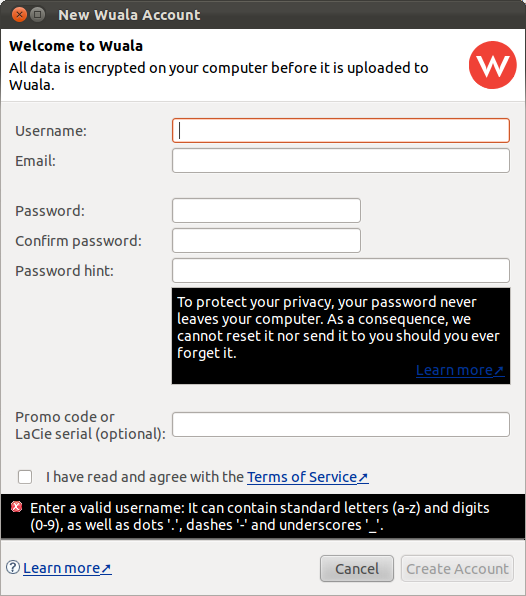 After the account has been created, you should see a folder named WualaDrive in your home directory.

This is a view of the default file and folders in my Wuala account.

Uploading data to an account is pretty easy. Just select the local folder and the remore folder, click OK, and synchronization should start.

The file and folder view of the account after data has been uploaded.

The Connection tab of Wuala's settings lets you see and modify some connection-related information. You can also see your Internet IP address (pixelated).

Wuala's Storage settings tab lets you see another view of your disk space utilization. That is it. Wuala's free account gives you 2 GB of free storage. Anything more is available for a fee. Visit Wuala for more information about the service.