Editor: This post is brought to you by EaseUS. It is posted for the benefit of those running Windows and a Linux/BSD distribution on the same machine who need a simple application for managing disks and disks partitions on the Windows side.
EaseUS Partition Master Free, a product of EaseUS, is a free disk management software that allows you to easily convert dynamic disk to basic disk, and also provides an all-in-one solution for all of your Windows disk management, partition recovery and cloning needs.
Besides being able to convert dynamic disks to basic disks, EaseUS Partition Master Free 10.5, which is the latest released version, also allows you convert MBR disk to GPT disk and vice versa. Plus it supports up to 8 TB of hard disk space. So if you have or intend to purchase a hard drive of that capacity, EaseUS Partition Master Free will come in handy.
The brand new user interface makes it very easy to convert dynamic disk to basic disks and it's also Windows 10 compatible, a feature which makes it easy to solve the low disk space problem commonly associated with an upgrade to Windows 10.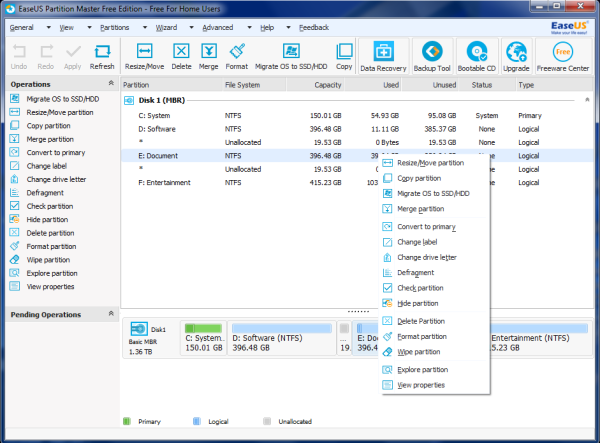 Other uses that you can put EaseUS Partition Master Free to includes:
Create, delete, resize, move, merge, split, wipe and format partitions.
Extend an existing NTFS system partition without rebooting your PC, so no downtime.
Safely merge two adjacent partitions into a single big partition without having to deal with any data loss.
Create a WinPE rescue disk so that you can boot up your sick computer.
It can be used to defrag a disk to improve the performance of a slow system.
Support for hardware RAID, removable storage device, GPT disk and FAT/NTFS/Ext2/Ext3 file systems.
Works on Legacy BIOS and UEFI systems.
As a bonus, if you're still on an older FAT file system, use this windows 8 partition manager to convert it to an NTFS file system.