Firefox is the only Web browser installed out of the box, and the search engines installed are those that share their revenue with the Linux Mint project. This is the project's search engine policy. This screen shot was taken from a window of Firefox, were Yahoo! is the default search engine.

If you install another browser, like Opera, for example, you'll find that the developers have not bothered to extend that policy beyond Firefox. This screen shot was taken from Opera Web browser. All the popular search engines are installed, with Google as the default. And if you install the Chromium Web browser, only Google, Yahoo and Bing are installed, with Google as the default. Unless Clem and crew do not care about revenue from Web browsers other than Firefox, they might want to make their search engine policy uniform.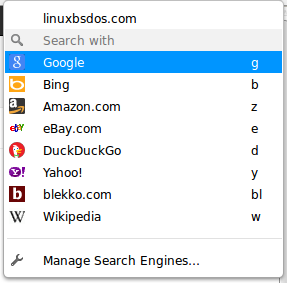 Out of the box, the system default application setting are correctly configured, except for calendaring activities where Gedit is the default handler. Gedit is a simple text editor, so this is one setting you'll be changing on a new installation of Linux Mint 14 Cinnamon.

The removable media settings works as configured, ask you what to do when a new media is inserted.

If the removable media is a digital camera, gThumb is the installed application available for use. It works just like Shotwell or any other image viewer/importer tool for digital cameras.

For audio CDs Banshee is the default application. You can play your local music or browse (and buy, for paid media) online media sources, like Amazon's MP3 Store and Internet Archive's extensive library of books, e-books and movies.

In Ubuntu Desktop, The backup utility gives you the option of backing up your data locally or to an online storage service, like Ubuntu One (the default online storage service). You could also configure alternate online storage service, if you do not like Canonical's offering. With Linux Mint, the backup application has no facility for remote backups in the same way that it is set up in Ubuntu, but you could set up an online storage service like Wuala, and use the local WualaDrive as the destination folder when setting up backup for the system.

Longtime users of Linux Mint are already familiar wit its graphical package manager, but if you have never used any edition of the distribution, installing applications on the system can be accomplished from the command-line and from a graphical interface. Linux Mint's graphical package manager is called the Software Manager. The main interface is shown in this screen shot. Do not be fooled by "63159 packages are currently available," because a significant number of those packages are libraries used by command-line and graphical applications you use.

Some of those real applications are games, and there are all types of games that you can install and play, all for free.

For checking an applying updates to the system, there is a graphical package updater that does that job for you.

By default, it is configured to check for updates every 15 minutes, but as I wrote in the beginning of this article, the system updater does not appear to be working as expected.

A note about the installer before I wrap this review up: Linux Mint 14's installer is not based on the latest edition of Ubiquity, the Ubuntu installation program, so it does not have support for LVM, the Linux Logical Volume Manager, and full disk encryption (FDE). Keep in mind that even in Ubuntu, there is only partial support for LVM and FDE, as they are not manually configurable.
Despite the issues highlighted in this review, I still consider Linux Mint 14 Cinnamon a very good distribution, though I have very serious concerns about its security posture. When a distribution's core packages are not authenticated, that's a serious problem. If you are running any edition of Linux Mint 14, be sure that packages are being authenticated before they are installed. If you get the warning message shown in the third screen shot in this review, bring it to the attention of the developers – file a bug report.
Resources: You may download installation images of Linux Mint 14 for your platform from here. "Release Notes" is also available from that link. If your choice of desktop environment is Cinnamon, but you want to try MATE without downloading an installation image of Linux Mint 14 MATE, install the MATE desktop by typing sudo apt-get install mint-meta-mate from a shell terminal. And if you are running Linux Mint MATE, but want to try the Cinnamon desktop from the same installation, typing sudo apt-get install mint-meta-cinnamon will pull in all the packages you need to run it. Keep in mind that both commands will use up an extra 380 MB of disk space.
Screen Shots: View more screen shots from test installations of Linux Mint 14 Cinnamon.
The Cinnamon desktop showing another wallpaper.

With the Coverflow extension (not installed by default) you can have browse open windows via the Coverflow look.

The desktop showing open windows in the active workspaces.

Nemo file manager