Here's news that will make advocates of open source software solutions very happy: A Norwegian Minister – Heidi Grande Røys – has allocated 2 million Kroners towards the adoption OpenOffice.org in public agencies – in Norway, of course.

Here's the Google-translated text of the announcement. The original announcement in Norwegian is here. Note: the announcement uses the term OpenOffice. In case you are not aware, the real name is OpenOffice.org
<!-smartads->
State sponsors Microsoft competitor

Minister Heidi Grande Røys will make it easy to use OpenOffice in the public.

Ministry Minister Heidi Grande Røys want to expand the use of free software in the public. Therefore, the Minister allocate two million to the development of solutions to adapt public agencies Functionality specific solutions and archives to OpenOffice, a free alternative to office software as Microsoft Office.

-The challenge for many businesses in the public sector is that Functionality specific solutions, such as in accounting, finance or archive and OpenOffice does not work optimally together. The funding will contribute to solutions to this, "said Heidi Grande Røys.

The money will insert the Ministry Minister on account of Friprogsenteret, which is a national center for free software. They will lead several projects to develop the necessary solutions.

Locked
– We have received messages from communities that feel that strong bonds between Functionality specific solutions and seamless supplier-owned products. This means that some businesses must give up plans to adopt free software. This is worrying. The individual business or municipality must be free to choose alternative products such as the radio actually, "said Grande Røys.

She stressed that there is no problem with using either provider-owned systems or free systems as OpenOffice. Core problem is rather that a number of Functionality specific solutions are locked to a single supplier.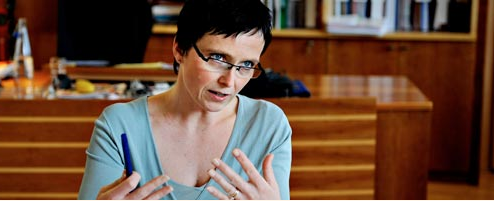 Minister Heidi Grande Røys (pictured above) is a very smart Minister and she's good looking, too. Please send a bunch of flowers to the Norwegian embassy in your country with her name attached to it. Tell them why you are sending it.