Been awhile since Mandriva 2010 Spring was released. Considering the company's financial woes, and the rumored takeover negotiations, we thought they might never release it, but they did. Mandriva Linux 2010, aka Mandriva Linux 2010.1, was made available for download on July 8, 2010. There are three versions:
Mandriva One 2010 Spring – the free live CD edition that contains the usual cast of free software and a limited set of non-free applications. Available for 32-bit platforms in KDE and GNOME.
Mandriva Free 2010 Spring – the no-cost edition that ships free of proprietary (non-free) applications. Available for 32- and 64-bit platforms.
Mandriva Powerpack 2010 Spring – this is the fee-based edition (49 €, or about 65 USD). It comes loaded with all the applications – free and non-free – that you will ever need. It ships, for example, with non-free applications that are missing in Mandriva One. Like Mandriva Free, it is also available for 32- and 64-bit platforms.
Since Powerpack 2009, which was the last Powerpack edition reviewed on this site, I have not been able to obtain another Powerpack from Mandriva for review, and I am not about to spend 49 €, or about 65 USD, just to review a Linux distribution. For this review, therefore, we will be looking at the One and Free editions, at features that are good or well implemented, and features that do not work as expected or are badly implemented.
Let's begin with those features that are badly implemented or just do not work as expected.
Installation: One major complaints I have had about the Mandriva installer is the lack of a back button, especially in the disk partitioning stage of the installation process. It is the same complaint I have about PCLinuxOS, which uses an older version of the Mandriva installer. Fedora and Debian, especially Fedora, have greatly improved their installers over time, but the Mandriva installer, though it has received its won share of improvements, still has the most glaring issue – the lack of a back button, untouched. Could it be that hard to code a back button into an application?
The lack of a back button is more of a headache on One than Free because at the tail end of Free's installation process, the user is given the opportunity to make changes before the package installation starts. That luxury does not exist on One.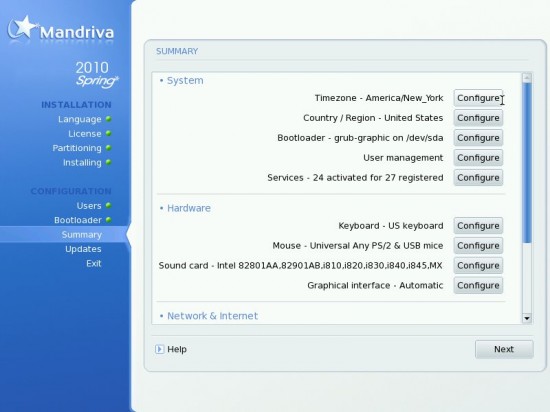 Upgrading and Installation: In the course of writing this review, I took the time to documented my experience upgrading Mandriva One 2010 and Mandriva Free 2010 to Mandriva One 2010 Spring and Mandriva Free 2010 Spring respectively. Aside from upgrading both editions, I also did a fresh installation of both. The installation of One was uneventful. However, the installation of Free turned out to be a major headache. I will use the next 5 images to illustrate the problem I had with a fresh installation of Free.
The installation process itself did not pose any problems. However, on reboot, and after typing in my password at the login screen, the message shown in the image below hit the login screen. Drak3d is a Mandriva tool used to configure a 3D desktop. But why is the system trying to run it? I Do not have an answer to that. In any case, I complied and typed in my password.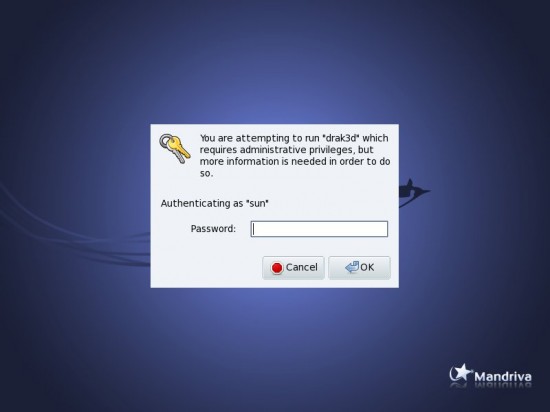 It looks like to run drak3d, a package named glxinfo needs to be installed. Do I want to install it? Do I have a real choice? Cancel drops me back to the login screen. So I chose Ok.


Apparently, Ok did not do me any good.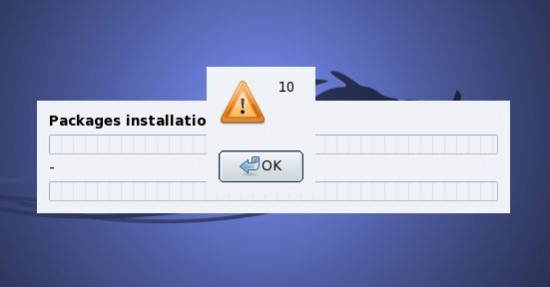 The system wants to install glxinfo from Main media, which is the installation medium. Problem is because the installation medium is a USB flash drive, and this computer lacks an optical drive (it is a small but powerful notebook), I have no Main media that I could insert. How do you "insert" a USB drive when you are yet to log in? So I quit trying to log in, and tried to figure out a solution. But I had to first figure out why the system was trying to run drak3d.