The upgrade was proceeding as expected until the error message shown in the image below popped up on the screen. This could be a major problem. Why? Because /boot is a non-LVM partition. It cannot be resized as easily as /var, a logical volume. But thankfully, I did not have to resize /boot.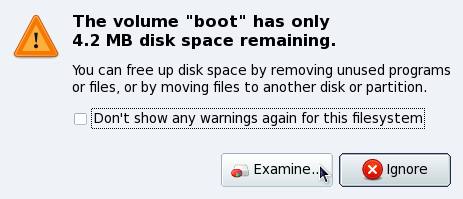 Following one of the offered suggestions, I decided to delete old files. So I hastily launched a shell terminal, su-ed to root, cd-ed to /boot, and started deleting files as fast as I could. Because the default configuration of the rm command was interactive, and I thought that that was going to be too slow, I decided to run rm with the -f switch. Big mistake because in my haste, I deleted a critical file. I did not know it then, but that was what happened. To cut a long, painful story short, after the upgrade, I could not boot into the system – I had deleted a very, very important file. And this was not one of my test computers. This was a personal "production" lappy.
The interesting part about this is that I did not have to delete any files. I chose the wrong option. I was just not thinking straight. Instead of deleting, I could have just moved files to /home or one of the other directories. Also, if I had not taken any action, there would not have been any problem arising from the little space left on /boot. This was clearly a case of an experienced hand committing a rookie mistake.
One lesson I learned from this, something that was brought up in one of the comments in Manual LVM configuration on Fedora 13, is that if you are going to create a separate partition for /boot and you are going to run the system through several update/upgrade cycles, be very generous with disk space allocation – to /boot.