Performing a distribution upgrade is one task I have never attempted on Mandriva Linux. And that is because Mandriva Linux 2010 is the first Mandriva version that I have used on any of my personal computer until the next update was released. So here was an opportunity to test how well the upgrade feature worked.
For this article, I show how a default installation of Mandriva One 2010 and a custom installation of Mandriva Free 2010 was upgraded to Mandriva One 2010 Spring and Mandriva Free 2010 Spring respectively (read a detailed review of Mandriva 2010 Spring). In a default of Mandriva One 2010, the install creates just one non-LVM partition where everything in installed under /, the root filesystem. In my custom installation of Mandriva Free 2010, I used an LVM-based partitioning scheme, with separate Logical Volumes for the major filesystem directories (/usr, /tmp, /var, /, /home and /opt).
The first part of this article presents how the Mandriva One 2010 installation was upgraded.
As part of the updates notifier (read how to configure Mandriva's updates notifier), Mandriva offers the option, not enabled by default, to have the system check and notify you when a new version has been released. The image below was obtained from the Mandriva Free installation. If it were from the Mandriva One installation, the arrowed line in the will be Check for newer "Mandriva One" releases.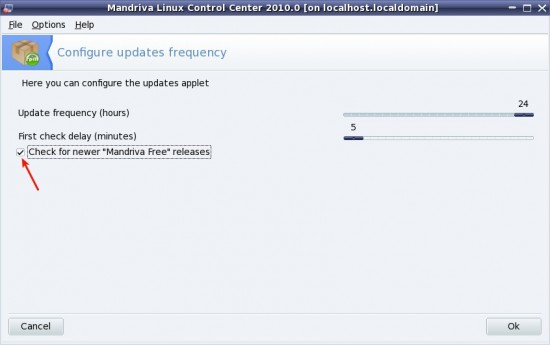 When a new version is available, the update notifier shows up as an arrow in the top panel (on the GNOME desktop), with occasional notification messages of the sort shown below.


Clicking on the More Information button in the figure above brings up this window. To upgrade, it's best to leave all check boxes unchecked (the default). This system will then download and install the packages in batches, rather than downloading all the packages at the same time. Next.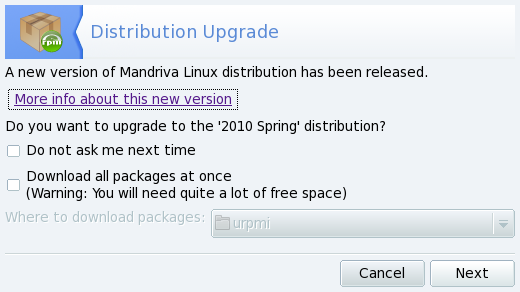 The upgrade will need almost 4 GB of data to be downloaded. No problem. The root filesystem on the One installation is sitting on a disk partition of more than 250 GB, with most of that still unused. Next.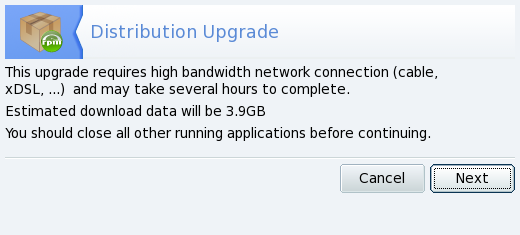 There's the option to upgrade to Mandriva Free or Powerpack. Since this is a test machine and I'm not about to spend about $65.00 to upgrade a test machine (that's what it cost to buy or upgrade to Mandriva Powerpack), the default option was chosen. Next.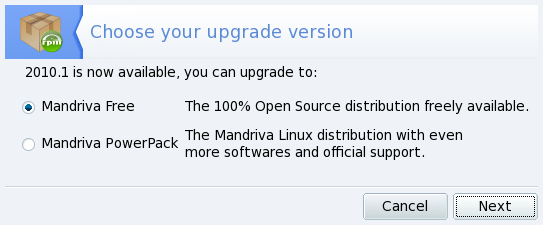 See the upgrade in progress.


After about 2 hours 30 minutes (over a fiber optic Internet connection) the upgrade was completed. Aside from all the packages, the kernel was upgraded from 2.6.31 to 2.6.33. After the prescribed reboot, everything worked just fine.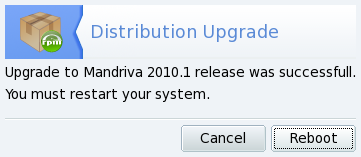 So, that was how an installation of Mandriva One 2010 was upgraded to Mandriva One 2010 Spring (aka Mandriva One 2010.1). Now, let's see how the upgrade of the custom installation of Mandriva Free 2010 went.