With /boot out of the way, select the unallocated space as shown, and click Create.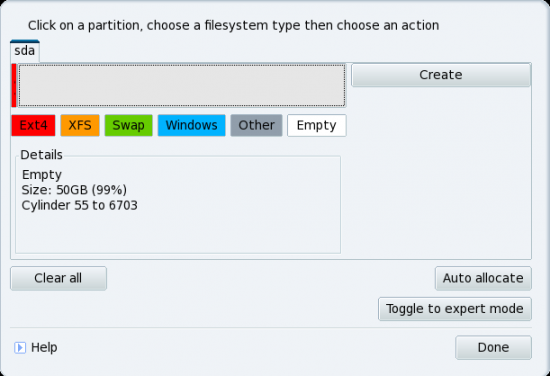 This step involves initializing the unallocated disk space for use by LVM, that is, creating a Physical Volume (PV), in LVM parlance. So make the selection as shown below and click Ok. If you do not intend to use all the unallocated space on your disk for installing Mandriva, move the slider until you get the disk size you want. Select Encrypt partition and specify the encryption key (passphrase or password). Keep in mind that the passphrase specified here will be needed every time you reboot the computer. Without it, you will not be able to boot into the system. If it will cheer you up, no one will be able to boot into the system and tamper with your data if they gain unauthorized physical access to it. This is the main advantage of creating an encrypted system. As stated earlier, it's just one method you may use to boost the physical security rating of your computer.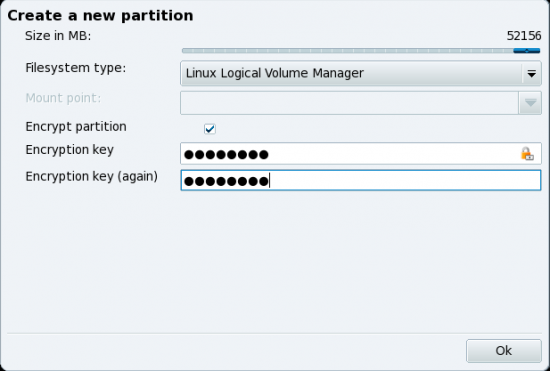 Not a whole lot to do here. Click Ok for the installer to write the partition table to disk.

Ok, what we have done so far is create a partition for /boot, and initialized the remaining (disk) space for use by LVM, that is, created a PV. In the image below, the PV is represented by the grey bar with the locked key icon atop it. The locked key icon indicates that the PV is encrypted. The next step involves creating a Volume Group (VG) and Logical Volumes (LVs). In LVM jargon, a VG is a virtual container for PVs, and an LV is the equivalent of disk partitions.
First we must create a VG. To do that, click on the PV to select it.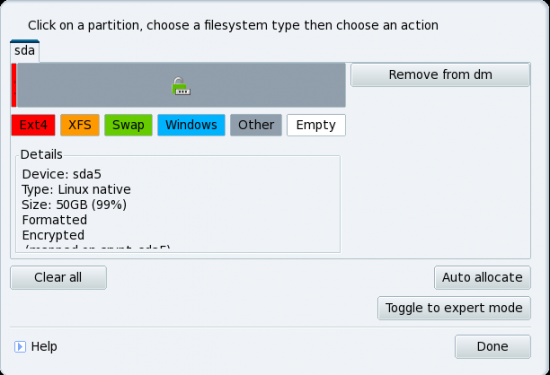 With the PV selected, click on the Add to LVM button.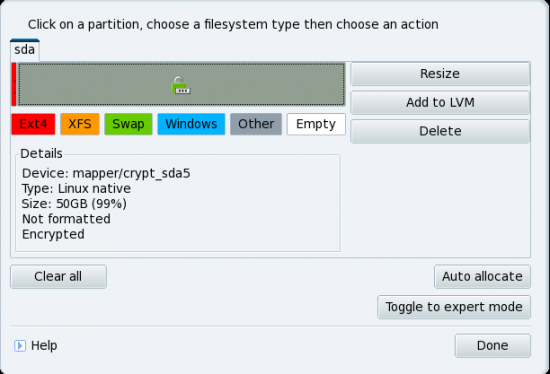 All that is required here is to give the VG a name. If you can't think of a suitable moniker, accept the default. Ok.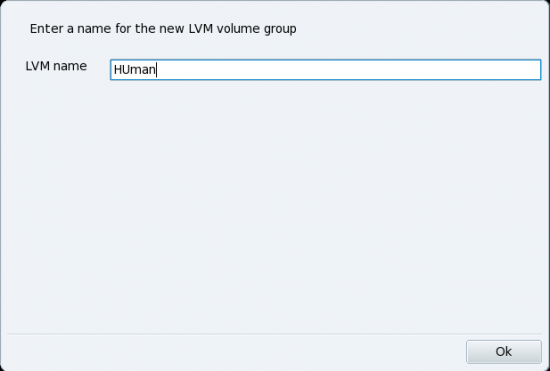 With the VG created, time to start creating the LVs. For a desktop system, it is recommended that you create LVs for the following:
You may create separate LVs for the other file system directories if you want, it is not absolutely necessary. Click on the name of the VG (HUman) and then on the Create button.