Parsix is a Linux distribution based on Kanotix and Debian. It is purely a desktop-focused distribution. The last major release was Parsix 3.0r0 (aka Kev). This review is of Parsix 3.0r2, the second update release of Kev.
Installation – Parsix is the second distribution reviewed and listed on this site with a menu-type installer (the other one is Zenwalk). It's not the most user-friendly and inituitive installer that you'll ever come across. It lacks support for disk encryption, LVM and RAID configuration. The default journaling filesystem is ext4, with ext3, reiserfs, xfs and jfs as the other options. GRUB 2 (version 1.97 beta3) is the bootloader.

The best physical security rating you can get with this Parsix is an incomplete 2 star rating. Incomplete because you cannot implement password aging with the graphical user management utility.
If you want to install Parsix on a computer with no pre-existing partitions, the screenshot below is the first one you'll see. Choosing "Partition Partition the hard disk" and clicking on the "OK" button will take you to the GParted window below it. This means that in order to install Parsix on a computer with no pre-existing partitions, you've got to be familiar with disk partitioning on Linux.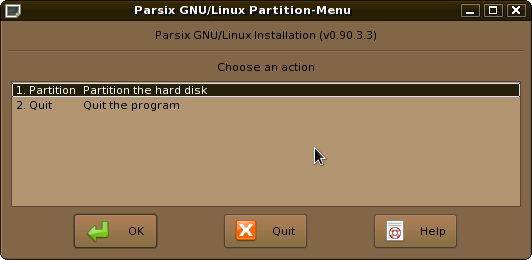 GParted window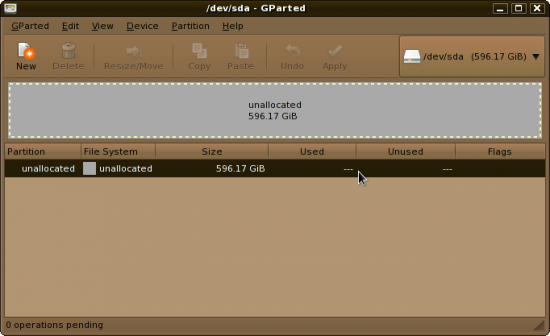 If your computer has usable partitions, this is the main installation screen you'll see. Like I wrote earlier, this is not a very user-friendly installer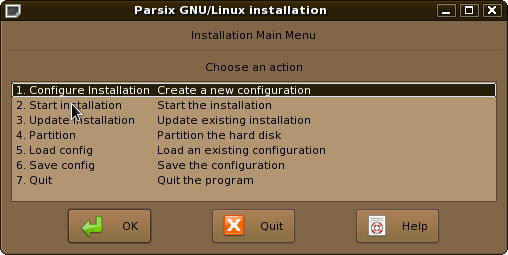 Desktop – GNOME is the default desktop environment on Parsix. GNOME 2.26.3 is the latest version available on Parsix. (the latest version of GNOME available for download is GNOME 2.28). The default desktop background is as drab and as dull as I've come across. I think it's worse than Ubuntu's. If your computer has the necessary hardware for it, Compiz-Fusion, a 3D compositing window manager, will be configured out of the box.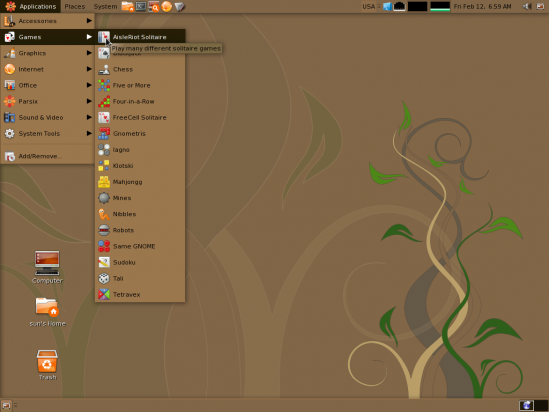 Administration and Software Management – Unlike Ubuntu and it's many knock-offs, Parsix uses the traditional root user account system. The graphical administrative tools are the stock tools you'll find on any GNOME desktop. Aside from the installer, I have not seen any attempt by this distro's developers to introduce custom-coded graphical administrative tools. As a Debian-based distribution, APT is the package manager, with Synaptic as the graphical package manager.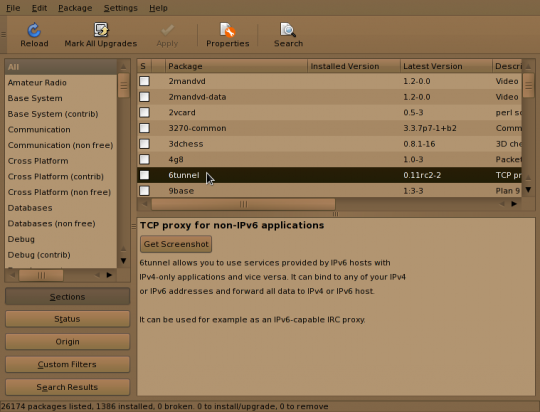 Default Installed Applications – Aside from the usual cast of GNOME games, desktop accessories and system utilities, here are some of the applications installed on Parsix:
OpenOffice.org 3.1.1
Iceweasel Web browser
The GIMP
VLC media player
Exaile music player
Gwibber microblogging client
Grisbi Accountung, a personal money management application
Pidgin Internet Messenger
Liferea Feed Reader
Virtualbox OSE
There are lots more in the repositories. XBMC, a media center application, is there, but not Moovida, the other media center application.
Browsers and Browser plugins – The only browser installed is Iceweasel, a re-branded Mozilla Firefox. The only other Web browser in the repo is Epiphany. Aside from being able to render Flash content, there is not much that you can view with Iceweasel. The Sun Java JRE package is in the repo, but because it is not installed, Iceweasel is unable to "speak" Java.
Security tools and Network Manager – Aside from IPTables, which is not even enabled, there is no other security tool that I can find protecting this box. Neither SELinux nor Tomoyo, the mandatory access control systems in the Linux kernel, are enabled. There is Firestarter, a graphical firewall manager installed, but you'll have to enable and configure it yourself. OpenSSH server is running straight out of the box. Unlike other distros listed on this site that disallow all local network or remote connections to the OpenSSH server by default, Parsix allows connections to the SSH server from the local network. Does it also allow remote connections to the SSH server? NetworkManager is the network management application on Parsix.
Media and Hardware Detection – Media and hardware detection on Parsix 3.0r2 is pitiful. At this stage in the development of desktop operating systems, its default behavior is an embarrassment. Take a printer, for example. What do you expect when you connect a printer to a computer? Most distro's I've reviewed will auto-configure it. A few will just detect it, in which case you will have to configure it yourself. But how does Parsix respond? It launches Exaile, the music player. Yep, connect a printer to a machine running the very latest edition of Parsix Linux, and the system responds by starting up a music player.
So what happens when you insert an audio CD into the optical drive? The system assumes that you want to copy the disc. Same happens when you insert a video DVD (see the next two screenshot below).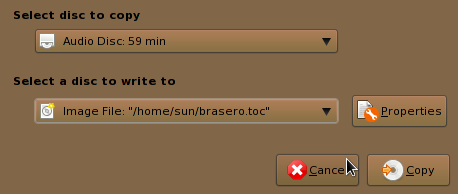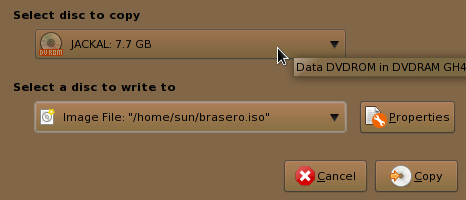 If you want to play a video DVD, launch VLC it separately and open the DVD. With libdvdcss installed, VLC will play any commercial or encrypted video DVD.
What needs to improve? Plenty. For starters, I'll recommend that development of the current installer cease. The developers should start developing an installer with a true, point and click graphical interface. I know it's not an easy task, but other developers have done it.
The system application defaults should make sense. IPTables should be running and the graphical firewall manager should be configured straight out of the box.
This is clearly a negative review, and at some level, I'm hoping that someone will prove to me that this review is completely off the mark. I'm waiting.
Resources – Home page. Download iso images for 32-bit and 64-bit platforms.