Mandriva One is one of three desktop Linux distributions published by Mandriva. It is a Live CD edition with the option to install to hard disk. Mandriva One 2010 is the first release of Mandriva One to have support for setting up LVM. LVM had only been possible in the Free and Powerpack editions. This tutorial offers a step by step guide on how to configure LVM on Mandriva One 2010.
Though this tutorial is based on Mandriva One, the same steps would apply if you were setting it up on Mandriva Free and Mandriva Powerpack. You may consider this an updated version of setting up LVM on Mandriva Free 2009.

Updated December 7, 2009: Note that it has been reported (bug report 55503) that Mandriva 2010 cannot mount LVM volumes upon reboot. I've not been able to reproduce this bug with any installation of Mandriva 2010, and I'm pretty sure that if you follow the instructions in this guide, that you'll have a trouble-free (pertaining to mounting LVM volumes) installation of Mandriva 2010. The screenshot below is the output of 'df -h' from a laptop running Mandriva Free 2010 with LVM configured: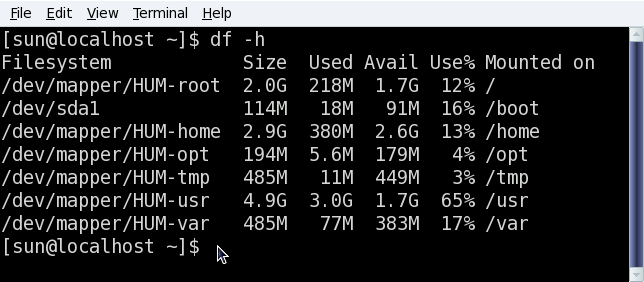 What are the benefits of configuring LVM?
Because the partitioning aspect of installing Mandriva One, Mandriva Free and Mandriva Powerpack makes up the bulk of the steps involved in installing them, you might as well consider this a Mandriva 2010 installation guide. The parts that are not covered here need no explanation. Just point and click.
The screenshot below is the first window pertinent to this tutorial that you will be presented with. Depending on the state of the hard disk(s) on the PC, you will get the following options:
Use free space – if there is no other OS installed on the disk or if there is one already installed and you need to dual boot
Custom disk partitioning – use this if you want to create something personal
Use existing partitions – this option is available only if there are existing Linux partitions on the disk.
In this test system used for this tutorial, only the first two options were available – there were no existing Linux partitions on the disk. Select 'Custom disk partitioning' to begin partitioning the disk(s).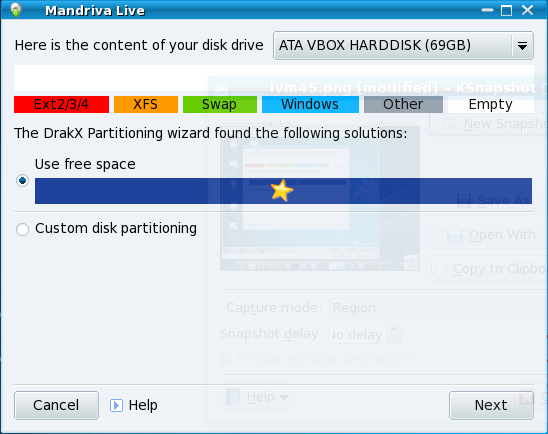 With Custom disk partitioning selected, click on the 'Next' button.

This is just a friendly warning. Select 'Exit' and backup any useful data still on the disk, or select 'Continue' and click 'Ok.'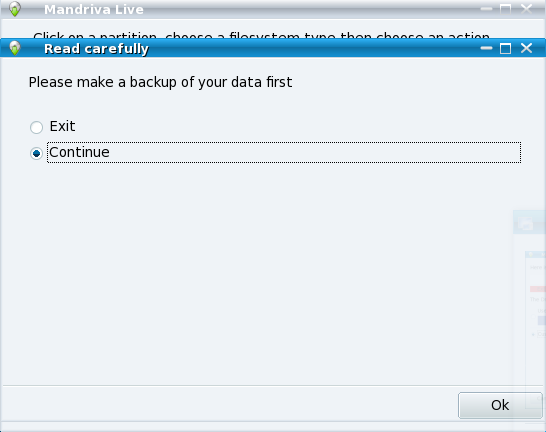 On this screen, you are in normal mode. For this tutorial, it is necessary to be in expert mode. So click on the 'Toggle to expert mode' button.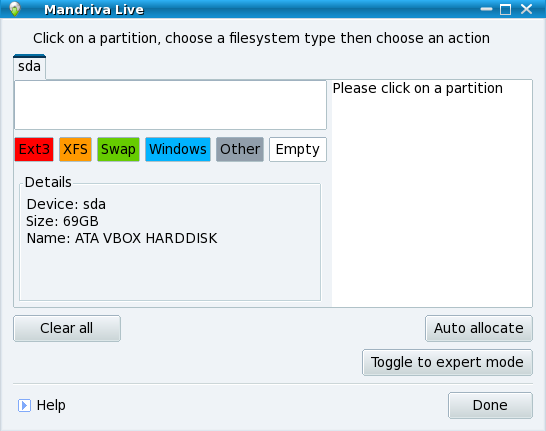 This is where we need to be, in expert mode. To begin creating partitions, select the disk (the bar under the 'sda' button and click on the 'Create' button.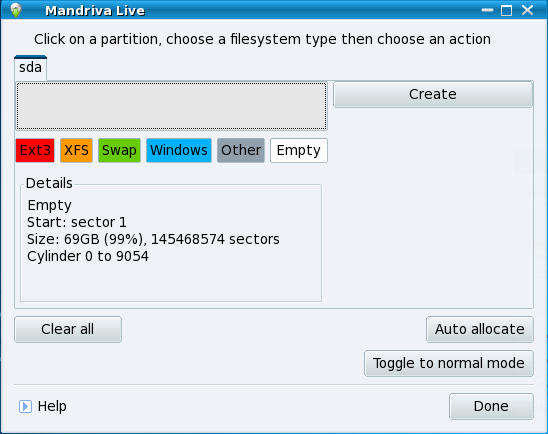 The first partition we need to create is a non-LVM partition for the /boot directory. /boot should always be created as a non-LVM, primary disk partition. Use the values shown in the screenshot. For size, I've chosen 120 MB, which should be more than enough. Most distros allocate 100 MB to 120 MB to /boot. On a finished Mandriva system, /boot uses just 18 MB of disk space, so 120 MB should be more than enough. 'Ok.'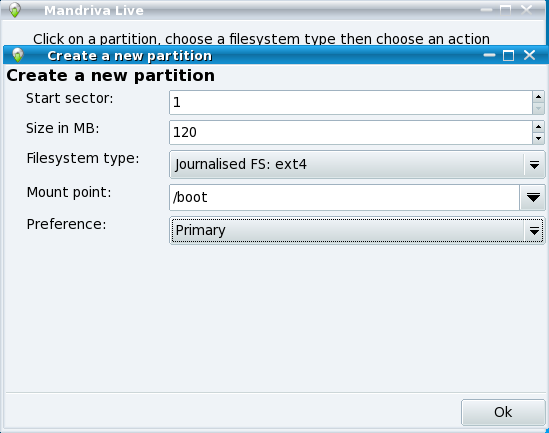 With /boot out of the way, the next step is to initialize the rest of the disk for use as an LVM volume. That means that we are going to create a Physical Volume (PV). To do that, select the unallocated part of the disk and click 'Create.'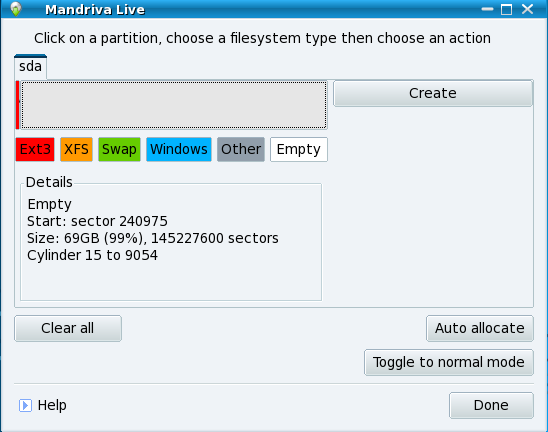 On this screen, don't mess with the 'Start sector.' For size, make sure you select all the unallocated space left on the disk. 'Filesystem type' should be 'Linux Logical Volume Manager.' 'Ok.'