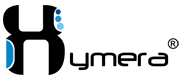 Hymera Open is a Debian-based, desktop-oriented GNU/Linux operating system. It is one of the best distro's that's has been reviewed on this site. As good as it is, and as many software packages there are in its repository, it lacks a decent media center application. The only one in its repo is an outdated Elisa media center.
XBMC, the other popular Free Software media center application, is not in its main repository. However, it is easy to install XBMC if you first add the XBMC PPA repo to the systems /etc/apt/sources.list. This tutorial provides a step by step guide on how to do just that.

Before installing XBMC, you need to have an anwser to this question: Does your PC meet the minimum recommended hardware requirements for XBMC? The most important requirements from that link are:
Intel Pentium 4, Pentium M PC
AMD Athlon XP/64, AMD Opteron, or newer PC
dual-core processor to decode H.264 videos in FullHD (1080p).
ATI/AMD, Intel, or NVIDIA (recommended) graphic controller which supports OpenGL 1.4 + GLSL or later (2.0 recommended)
If your PC meets the minimum recommended specs, then proceed with the installation. Otherwise, well …
Installation:
An installation of XBMC requires that the following packages be installed:
XBMC – main media player package
xbmc-common – contains datas needed to have a working XBMC
xbmc-skin-pm3 HD – XBMC PM3 HD Skin package
xbmc-web-pm3 – PM3 Skin for the XBMC web server
libfaac0 – library files for AAC audio encoder
The first four packages are available in XBMC's package repo. The last one, libfaac0, is not, and I could not find it in any of Debian's repos. However, it is available in Ubuntu's multiverse repo. In essense, before you can install XBMC on Hymera, the XBMC PPA repo and Ubuntu's multiverse package repos must be added to your system's /etc/apt/sources.list. To add the repos, simply launch Software Sources from Hymera > System > Administration > Software Sources, or if you have Synaptic open, click on Settings > Repositories.
Click on the 'Third Party Software' tab to begin adding repos.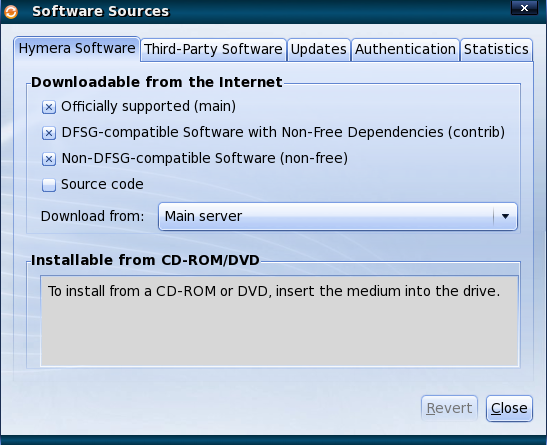 Adding XBMC PPA and Ubuntu multiverse package repos:
With the 'Third Party Software' tab open, click on the 'Add' button.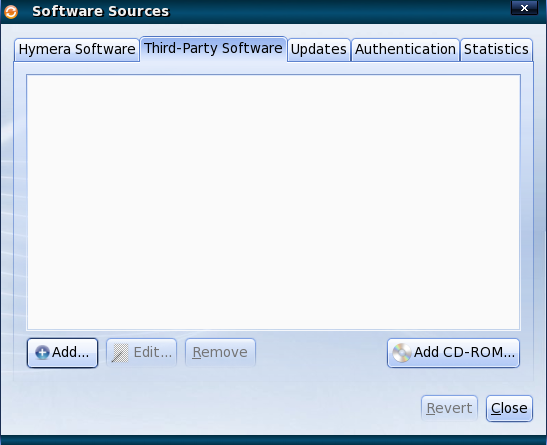 The XBMC package repo for Ubuntu is at:
deb http://ppa.launchpad.net/team-xbmc/ppa/ubuntu/ jaunty main. Type that into the 'APT line' field.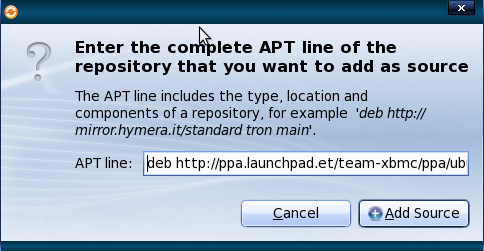 Repeat the procedure for the following Ubuntu multiverse repos:
1. Main multiverse repo – deb http://us.archive.ubuntu.com/ubuntu/ jaunty multiverse
2. Multiverse updates repo – deb http://us.archive.ubuntu.com/ubuntu/ jaunty-updates multiverse
3. Multiverse security updates repo – deb http://us.archive.ubuntu.com/ubuntu/ jaunty-security multiverse
When you are finished adding these repos, the Third Party software tab should look just like the one below.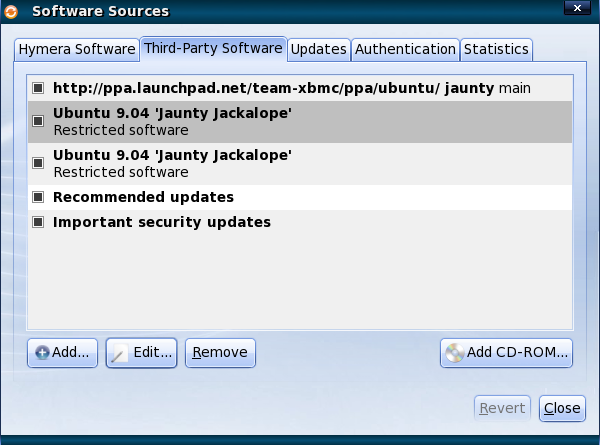 After adding the repos, the next step is to add the signing keys.
Adding XBMC signing key:
XBMC team recommends that you add the XBMC repo key as follows (modified from here):
Open Hymera's default text editor (gedit) from the menu: Hymera > Accessories > Text Editor.
Click here to view the PGP key
Select and copy the text from the beginning of the keyblock to the end (including those lines) and paste it into gedit. The gedit window should look like that in the screen shot below.

Save the document in your home folder as xbmc-ppa.key
Reopen Software Sources, this time choosing the 'Authentication' tab.

Click "Import Key File" and choose the newly created xbmc-ppa.key file and press OK.
The xbmc PPA key should appear at the bottom of the trusted keys as shown.