Browser and browser plugins: Mozilla Firefox is the default browser on both distros. On Ubuntu, Firefox could not render flash, Java, quicktime, or other multimedia content.
Other than Firefox, Mandriva also has the Epiphany Web browser installed. Epiphany is the browser native to the GNOME desktop, much like Konqueror on KDE. Out of the box, Firefox and Epiphany will render flash content, but not Java or quicktime movies.
The Edge: For being able to render flash out-of-the-box, I give a slight edge to Mandriva One.
Multimedia playback: On both distros, Rhythmbox is the audio player, and the systems will detect when an audio CD is inserted and whip up the appropriate application (Rhythmbox) to handle it. Same for DVD videos. Totem is the only movie player installed on both distros, and on both, Totem will not play encrypted DVD videos. As a matter of fact, it will not even play simple mpg videos you download from the Internet.
The Edge: This one is obvioulsy a tie. To play encrypted DVD videos on these two distros, you'll have to install VLC, which is easy. On Ubuntu type sudo apt-get install vlc in a shell terminal or by using Synaptic or the Software Center. On Mandriva One, use Rpmdrake (search for 'vlc').
Administration and Package Management: Other than the new Ubuntu Software Center, the Update Manager, and the USB Startup disk Creator (used to create a Live USB), all the graphical management utilities on Ubuntu are the same you'll find on any GNOME-based distro. Some system managements applications do not have a graphical frontend. Notable examples are Apparmor and ufw (if you need help installing a graphical frontend for ufw, read install a graphical firewall client on Ubuntu 9.10).
Managing applications on Ubuntu is via the new Ubuntu Software Center, Synaptic, and the Linux cli. Ubuntu uses sudo for granting access to admin tools. If you are using sudo, watch out! Microsoft has been granted a patent for it.
Synaptic, Ubuntu's graphical package manager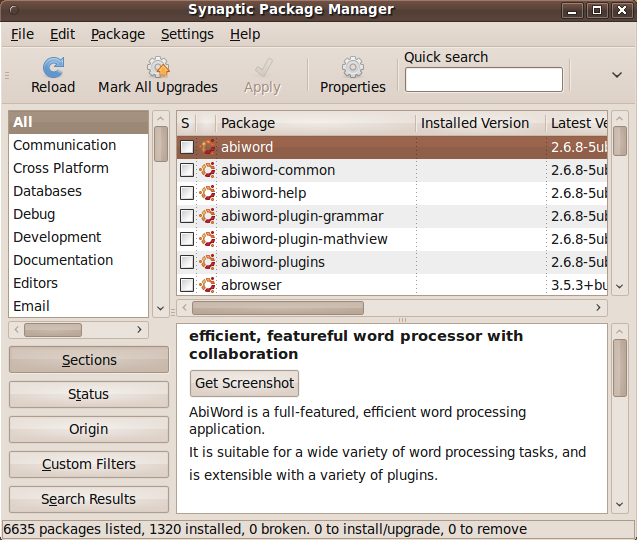 The administrative hub on Mandriva is the Mandriva Control Center (MCC), which gives you graphical tools to manage every aspect of the system. Some of the tasks you can accomplish from MCC are: Parental Controls, firewall configuration, network interface failover and firewall replication, configure Samba, NFS and WebDAV shares, Import Windows documents and settings (if you are dual booting with a Windows OS), manage system logs, set up a UPS, etc, etc, etc. There is no task you cannot accomplish from MCC.
Mandriva Control Center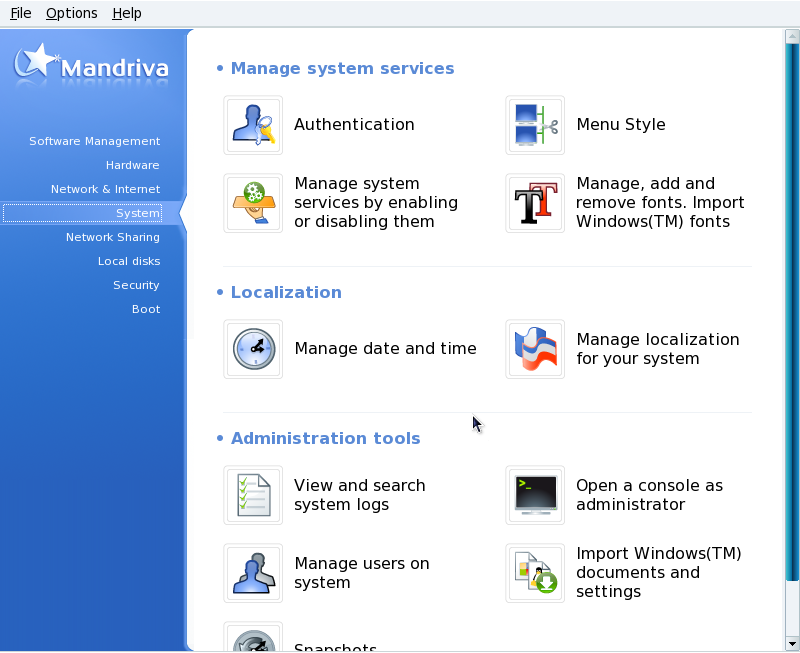 Managing applications on Mandriva is via the Linux cli, and Rpmdrake, a graphical package manager just like Synaptic. Mandriva sticks with the UNIX tradition of using the root account for access to admin tools.
Rpmdrake, Mandriva's graphical package manager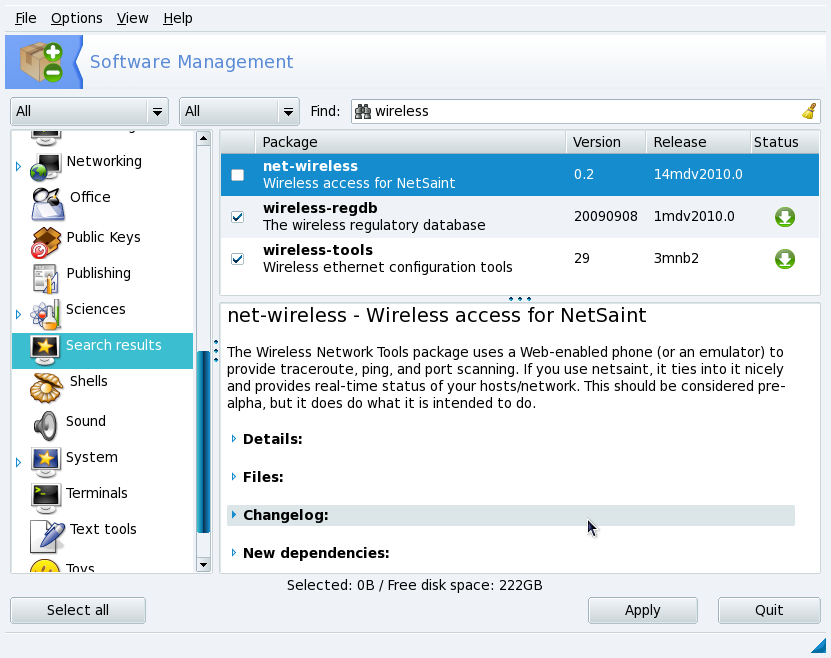 The Edge: Mandriva by a very wide margin. I wish every distro had their won MCC. Mandriva does not have a Software Center, but Rpmdrake looks and feels nicer than Synaptic, though at the core, they both do the same thing and in the same manner. One nice feature on Synaptic that is absent on Rpmdrake is live search.
Network tools: NetworkManager is the network manager application on both distros. The only difference is that on Mandriva One, the NetworkManager applet and the firewall gui are integrated into one excellent interface. On Ubuntu, the NetworkManager applet and the firewall gui are in separate zip codes.
The Edge: Slight edge to Mandriva for integrating the NetworkManager applet with other tools.
Hardware detection and configuration: When it comes to hardware detection, you expect both distro to behave similarly, and they do – somewhat. Ubuntu will auto detect and configure a printer, and will automatically open the contents of a USB drive in Nautilus. I have two wireless USB cards. A Cisco-Linksys Compact Wireless-G USB Adapter, and the other is a Belkin Wireless-G USB Network Adapter. The presence of the Belkin adapter could not be detected by Ubuntu.
Like Ubuntu, Mandriva One will automatically open the contents of a USB drive in Nautilus. With respect to the wireless USB adapters, Mandriva One could detect but not configure the Belkin adapter. CUPS (the Common UNIX Printing System), the application used to manage printers and printing on UNIX systems, is not installed on Mandriva. You'll have to install it yourself, and even after that, you'll have to manually add a printer.
The Edge: To Ubuntu, of course.
Restricted Drivers: During the installation process, the Mandriva installer configured restricted, third-party video drivers, and offered the option to use a 3D desktop (Compiz or Metisse). So if you have the hardware for it, you will be enjoying all the cool effects of a 3D desktop.
On Ubuntu, you have to initiate configuration of the restricted drivers – after installation. Even after installation and setup, Compiz did not work as well as it did on Mandriva One.
The Edge: Mandriva One.
Security Posture: On Ubuntu, IPTables, via Ubuntu's ufw (Uncomplicated FireWall) is started, with the default policy being to deny all incoming connections while allowing all outbound connections. Aside from the firewall, Ubuntu also has Apparmor running. There are no VPN applications installed, and openSSH server is also not installed.
On Mandriva One, the firewall, via shorewall, is running, and like everything else, there is a (graphical) tool in MCC to configure and manage it. But besides basic firewall configuration, Mandriva has a tool to configure network interface failover and firewall replication. There is also Msec, the Mandriva security package. It ,too, is enabled by default. OpenSSH server is installed, but there are no VPN packages. One neat feature of Mandriva's firewall tool is the Interactive Firewall. Call it the early warning and detection system. The screenshot below explains what it is.
Mandriva firewall attack alert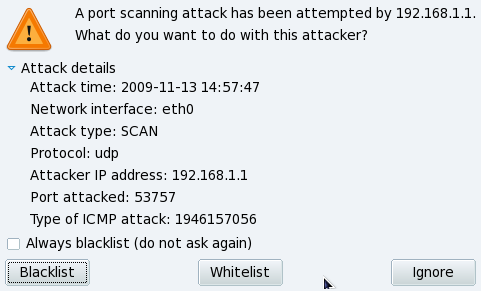 The Edge: I gotta hand this one to Mandriva (I'm sure you'll agree with me). Ubuntu just does not have the type of graphical managment tools that's available in the MCC.
By the way, what is Apparmor? it is:
… a Mandatory Access Control (MAC) system which is a kernel (LSM) enhancement to confine programs to a limited set of resources. AppArmor's security model is to bind access control attributes to programs rather than to users. AppArmor confinement is provided via profiles loaded into the kernel, typically on boot. AppArmor profiles can be in one of two modes: enforcement and complain. Profiles loaded in enforcement mode will result in enforcement of the policy defined in the profile as well as reporting policy violation attempts (either via syslog or auditd). Profiles in complain mode will not enforce policy but instead report policy violation attempts.
What about MSEC? It is:
… intended to control and manage the security of the system. Msec uses the concept of *security levels*, which are intended to configure a set of system permissions, which can be audited for changes or enforcement.