I'm used to reviewing one distro at a time, and that has worked quite well. You could read a review and assuming it is well written and detailed, decide whether to download and install it on your PC. For this review, however, I'm doing a two-for-one – revewing and comparing two very popular distros. For the reader, I think it makes it very easy (or easier) to evaluate distros. So for this combo-review, I'm taking on Ubuntu 9.10 Live CD and Mandriva One 2010.
Ubuntu and Mandriva are two of the most popular desktop Linux brands. Both are backed by commercial entities. Ubuntu by Canonical Ltd., and Mandriva by Mandriva. Both are free to download and use, and have a vibrant, online user community. Ubuntu is a GNOME-based distro, while Mandriva One has separate iso images for GNOME and KDE desktop environments. In order not to compare apples to oranges, this review features Ubuntu 9.10 Live CD and the GNOME edition of Mandriva One 2010.

Any review should always begin from the beginning – the installer, or the installation procedure. And that's exactly what I'm going to do here.
So, let's being – from the very beginning.
INSTALLATION:
The Ubuntu 9.10 Live CD installer is supported on 32-bit and 64-bit platforms. The installation process is just a simple, six-step routine. No support for LVM, RAID, and disk encryption. By default, Ubuntu creates one main partition, using the ext4 file system. The installer gives you the option to boot into the Live environment, or to install it on your PC, bypassing the Live environment.
Ubuntu desktop boot screen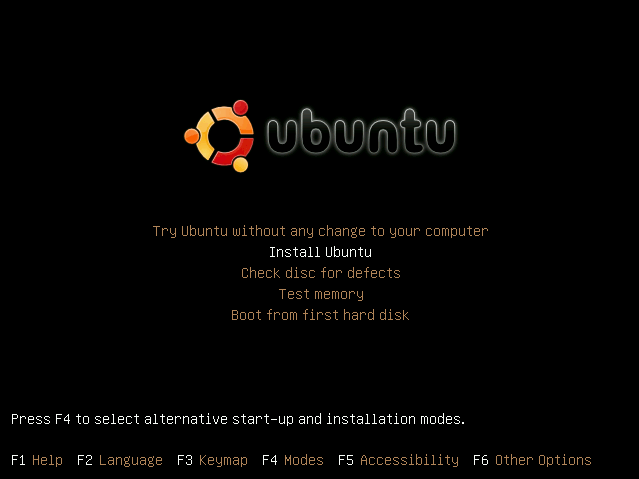 The Mandriva One 2010 installer is a Live CD with the option to install to hard drive from the Live environment. With Mandriva One, you have to boot into the Live environment. The installer is supported only on 32-bit platforms. During installation, you have the option to configure NTP (manual configuration is default). LVM, soft-RAID, and full disk encryption are supported.
Mandriva One 2010 boot screen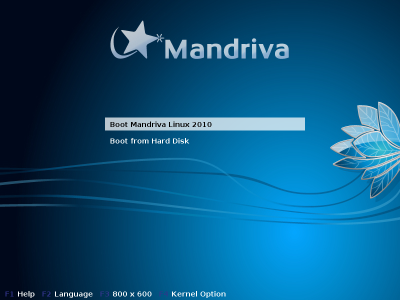 THE EDGE: At the installer level, Mandriva wins easily – no contest here. When evaluating a Linux or BSD desktop operating system, you want to make sure that it has support for LVM and disk encryption. LVM is not a must-have for every user, but in today's computing environment, you need disk encryption. Why is disk encryption that important?
The Mandriva One installer is less automated than the Ubuntu Live CD installer, and offers more advanced options. With the Mandriva installer you have the option to choose between using GRUB or LILO as bootloader, with GRUB as the default. Ubuntu installer does not give you a bootloader option. GRUB is it.
One of the most annoying aspects of the Mandriva One installer is that it lacks a 'back' button. You either move on to the next step or you cancel the installation. This problem was brought to light in a review of Mandriva Powerpack 2009, and no one at Mandirva has bothered to address it.
Mandriva installer. Hey, where's your 'back' button.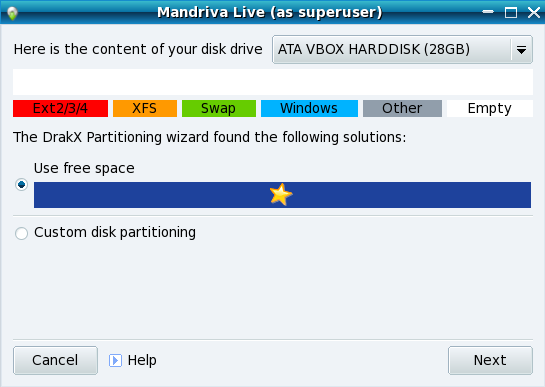 As simple as it is, the Ubuntu installer gives you the freedom to go forward or backward as many times as you like.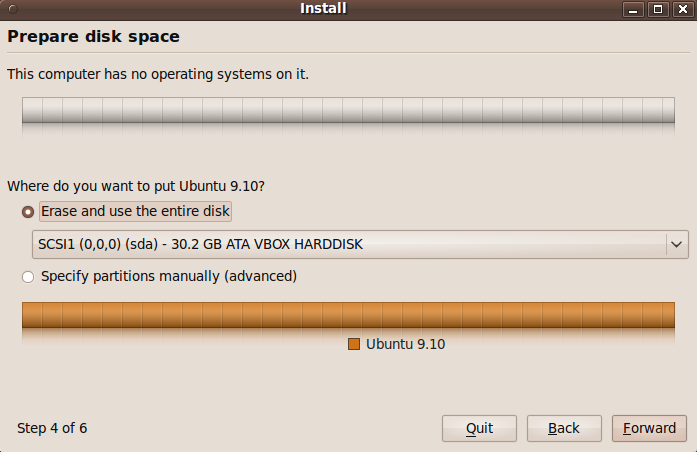 THE DESKTOPS:
Both distros are using the same version of GNOME (version 2.8). There is nothing especially remarkable about the default wallpapers. Ubuntu's is as bland as you are going to find on any desktop operating system, and Mandriva's is no better. But as the saying goes, one man's meat is another man's poison. If you want to see what a good desktop wallpaper and configuration looks like, take a look at Hymera Open.
Ubuntu desktop screenshots are available here, and those from Mandriva One here.
The Edge: Let me repeat: One man's meat is another man's poison. If you want to, you may sex up the Ubuntu desktop with Cairo-Dock, and do the same for Mandriva.
INSTALLED AND AVAILABLE SOFTWARE:
Ubuntu – Aside from the stock set of games, desktop accessories and system tools that comes with any GNOME desktop, Ubuntu installs the following by default: F-Spot Photo Manager, the GIMP, Empathy IM Client, Evolution Mail, Firefox, Transmission BitTorrent Client, Totem Movie Player (with GStreamer backend), Rythmbox audio player, and GNOME-Sound-Recorder. There is, of course, Brasero Disc Burner, and OpenOffice.org office suite.
Mandriva – Mandriva also ships with the usual set of GNOME utilities and desktop accessories, but not a single game application is installed, not one. Ok, so games are not installed, but you do get the following: Ekiga Softphone, Empathy IM Client, Epiphany and Firefox Web browsers, Evolution Mail, OpenOffice.org office suite, F-Spot Photo Manager, the GIMP, Eye of GNOME, Inkscape Vector Graphics Editor, Kino, Totem Movie Player (with GStreamer backend), TVtime Television Viewer, Cheese Webcam Booth, Rythmbox audio player, GNOME-Sound-Recorder, and FM-Radio Tuner.
The Edge: Mandriva One obviously packs more useful software than Ubuntu, but why the absence of games? Any application not part of the default installation is likely available in the repositories. In terms of default installed applications, I'm yet to review a distro that tops Sabayon.