Ubuntu 9.10, also known as Karmic koala, is the latest version of the popular Linux distribution published by Canonical Ltd. Aside from Ubuntu Netbook Remix, the netbook edition, Canonical also publishes the Live CD edition, and the alternate or text-installer edition. The Live CD edition is the edition that most users are familiar with. Though it offers a simple, six-step installation routine, the Live CD edition lacks some features supported by the alternate installer edition. Some people consider these features advanced, but I choose to view them as standard features of the Linux kernel.

The installer: Though the alternate installer is officially dubbed the text-installer, the installation interface is actually ncurses-based, and does not have a Live CD option. It is purely for installation to hard drive. It has a normal, semi-automated mode and an Expert Mode. In the Expert Mode, you have complete control over all the installation steps. If you are a Free Software purist, the installer gives you an option to install 'Free Software only.' That would be the equivalent of installing Mandriva Linux Free or any one of the Free GNU/Linux distributions
Ubuntu 9.10 Alternate installer. No Live CD option.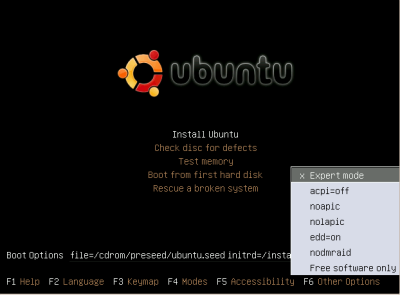 It has support for LVM, soft-RAID, and disk encryption. When configuring LVM, Ubuntu 9.10 allows for the encryption of physical volumes. But that's not all. At some point during the installation process, you are presented with the option to encrypt your home directory. This is a plus, and does not require any action on your part, that is, apart from accepting or rejecting the offer.
Encrypt home directory


If you are using LVM and encrypting your physical volume or logical volumes, is it still necessary to accept the offer to encrypt your home directory? I could be wrong, but my answer to that is, no, it is not necessary. But it wont break anything if you do accept to encrypt your home directory. Consider it a bonus. The only downside to this, that is, if you consider it a downside (I don't), is that you will be required to type in your password at every reboot. If you also configured encrypted LVM, you will be required to type in an additional password/passphrase before rebooting into your PC.
GRUB and LILO are your bootloader options.
Note: If you opt to use LVM as the disk partitioning scheme, the installer will create just two logical volumes – one for swap, and the other for the main partition, with ext4 filesystem. How to create a custom LVM configuration will be the subject of another post. Subscribe to the RSS feed to be notified when that post is published.
After installation ….
What's good: One of the issues I pointed out in a review of Hymera Open and Sabayon 5 GNOME is that my test printer was not auto-configured. This test printer is an HP Deskjet F4280 All-in-One. Like Pardus, Karmic Koala was able to auto-configure this printer, in less than three second.
Printer auto-configuration success message


Also, on Hymera and Sabayon 5 GNOME, clicking on a image file in Nautilus will cause that image to be opened in the GIMP, rather than in an image viewer. Ubuntu 9.10 does the right thing when you click on an image file in Nautilus – opens it in the Eye of GNOME, the default image viewer.
Note: Opening an image file in the GIMP seems to be the default configuration on the latest releases of the GNOME desktop environment. So kudos to the folks at Canonical.
Viewing an image in the Eye of GNOME

Inserting an audio CD (into the optical drive) will bring up a dialog box with the appropriate application selected by default. No need to first mount it as is the case on Sabayon 5 GNOME. By the way, the default audio player on Karmic Koala is Rhythmbox.
Audio dialog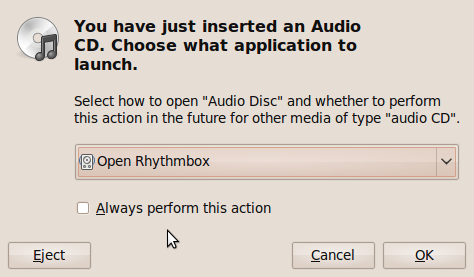 Same holds true when you insert a DVD video. Totem is the default movie player, and the only one installed.
Video dialog