Default Installed Applications: Hymera Open features an impressive set of application. It's on par with what you'll find on Sabayon Linux. Here's a list of some of the applications installed by default:
OpenOffice.org 3.1
GNU Image Manipulation Program – the GIMP
Skype
Pidgin Internet Messenger
Empathy Instant Messenger
Totem
Rhythmbox music player
Audacious2
Altariva, a re-branded Mozilla Firefox Web browse
Hymera Foreys, a re-branded Mozilla Thunderbird email client
Just like Sabayon, Hymera Open comes with lots of games installed. It, however, lacks the 3D games pre-installed on Sabayon. Those 3D games and a whole lot more are available in the main repository, which packs an extensive collection of applications. A few of those application, I noticed, are outdated. For example, Elisa, a media center application developed by Fluendo S.A., a software development and consulting services company based in Barcelona, Spain, is at version 0.3.5. However, Elisa media center, before it was renamed to Moovida, was at version 0.5.x. Moovida is now at version 1.0.7.
An outdated Elisa is the only media center application you will find in Hymera's main repo. XBMC, the other popular media center application, is not in the repo. XBMC is the default media center application on the latest version of Sabayon.
Software Management: Being a Debian-based distro, APT, Advanced Packaging Tool, is Hymera's package manager, with Synaptic as the graphical frontend. Synaptic is – in my opinion, the best gui package manager available on any Linux/BSD desktop.
Only one repository is specified in Hymera Open's /etc/apt/sources.list file, but third party repos may be added if you need to install an app that is not available in the (main) repo.
Administration: Hymera uses the root user account for granting access to admin privileges. It does not have a system "Control Panel", but features all the system admin tools in the menu under Hymera > System Tools, Hymera > System > Preferences, and Hymera > System > Administration. Below are screen shots of some graphical admin tools.
foomatic gui for printer configuration and management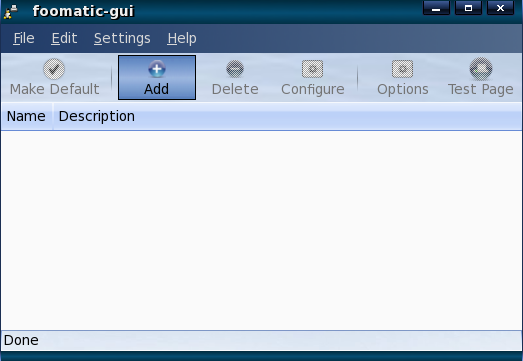 User management utility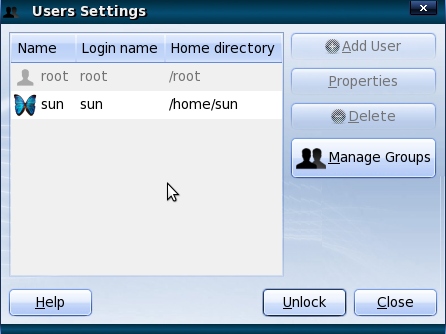 Time and date configuration tool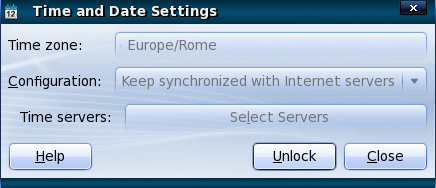 Media and Hardware Detection: With regards to media and hardware detection, the only aspect of Hymera Open that does not work as expected is printer configuration. Like Zenwalk, Hymera will auto-detect, but not auto-configure a printer. My test printer is an HP Deskjet F4280 All-in-one. I had no problem adding this printer on Zenwalk, and it was automatically configured by Pardus in a flash. On Hymera Open, however, I could not even manually configure it. Something to do with printer drivers.
Audio CDs and DVD videos are automatically opened in Rhythmbox and Totem respectively. Totem, with a GStreamer backend, will play commercial and encrypted DVD vidoes (libdvdcss is installed).
Browsers and browser plugins: The only browser installed on Hymera Open is called Altariva Open, version 3.5.1pre. This is just a re-branded Mozilla Firefox. It passes the flash test and the Java Runtime test.
Security Tools and Network Manager: No graphical firewall client is installed by default. There are, however, several in the repo. Firestarter and KMyFirewall are two of the best. I recommend Firestarter, and you may use this tutorial, written for Zenwalk 6.2, to configure it. The installation part will, of course, be different. Use apt-get install firestarter to install it from a shell terminal (after authenticating as root), or just use Synaptic.
OpenSSH client is installed, but not the server, and there are no VPN applications installed. The openSSH server and several VPN applications are in the repo. The preferred network manager is Wicd.
Aside from Wicd, there is a network management utility called iMobile. The application is in Italian. Here's Google Translate's translation of what iMobile is designed for :
iMobile is an innovative software key USB connection to the Internet.
Usage is immediate: the configurations for the most popular wireless carriers are already preset, and they also support USB modems and phones.
iMobile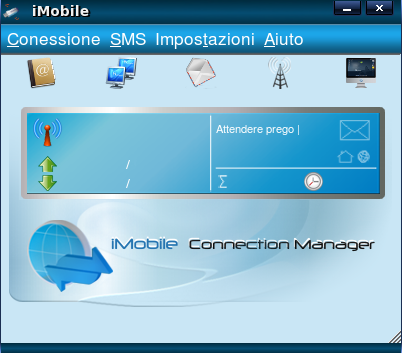 What's Special about Hymera Open?: Plenty. For one, it works – out of the box. Aside from that, it sports the most beautiful design of any distro I have ever used. GNOME has never been my kind of desktop environment, that is, until KDE 4 was released, but Hymera makes GNOME fun to use. It's pure joy reviewing this distro. But is it a perfect Linux desktop distribution? No, but it comes very, very close.
I'd proclaim it a perfect desktop Linux distribution if the installer provided support for setting up LVM and disk encryption, and it came with a graphical firewall client installed and configured. In other words, if you have no need for LVM (it has its benefits, but not every person needs it), don't care very much about disk encryption, and you don't mind having some "Italian" sprinkled on your desktop then you will be very happy using Hymera Open. If you do not know anything about the value of encrypting disk drives, I suggest that you read data protection steps, part of the Surveillance Self-Defense campaign by the Electronic Frontier Foundation.
What Needs to Improve?: Not very much. I have already covered most of these above, but I'll repeat them here – in list form:
The installer should be smart enough to detect the correct keyboard layout and timezone, or just make it less automated.
The installer should have support for setting up LVM and disk encryption
A graphical firewall client installed and configure out of the box
Support for platforms other than the x86.