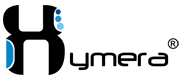 Hymera is a Debian-based, GNU/Linux operating system. It is a relatively brand new distribution developed and maintained by Hymera Engineering S.r.l., an Information Technology outfit based in Milan, Italy. Hymera Engineering publishes four versions of their Linux distribution – Hymera Open, Hymera Desktop, Hymera Evolution, and Hymera Server. This review is of Hymera Open, the free, desktop-oriented version.

Installation: Hymera features a very beautiful graphical installer. It is a slightly retooled version of a pre-5.0 Debian installer. Most aspects of the installer are automated. While that makes the installation process faster, it has its drawbacks. For example, you can't choose your keyboard layout and timezone. That wouldn't be such a big deal if the installer accurately detects them, but it does not. GRUB is the boot loader, installed by default in the MBR. No option to install it anywhere else
Per disk partitioning, the installer offers two options – Guided Partitioning and Manual. If you opt for Guided Partitioning, the installer creates one main partition, /, and a partition of about 1.5 GB for swap. The default file system for / is ext4. Other available journaling file systems are ext3, reiserfs, jfs, and xfs. There is support for soft-RAID, but not for LVM and disk encryption.
Desktop: GNOME is the preferred desktop environment. This is not one of those bland configurations of the GNOME desktop environment that you find on other GNOME-based distros, but the most beautiful desktop configuration (GNOME or KDE) and design I have ever seen on any Linux or BSD desktop distribution. The artwork is very professional, stylish, and very, very visually appealing. The visual is further enhanced by the placement of screenlets to the right side of the desktop. Screenlets, like SuperKaramba, are small, interactive applications written in Python. They provide basic information about your PC and allow you to perform very simple tasks on your desktop. They are also eye candy.
If your PC has the required hardware, you may configure Compiz, a 3D compositing window manager installed by default. Cairo-dock, an application similar to the MacOS X dock, is also pre-installed.
Hymera Open desktop showing Cairo-Dock

One of the few surprises you'll notice, if you are using an "English" keyboard, is that your keystrokes do not match what's showing up on screen. That's because Hymera's default keyboard layout is "Italian." So the first configuration change I had to make, was to the keyboard layout. It needed to be "English." The gallery below shows how that simple task was accomplished:
[album: http://linuxbsdos.com/wp-content/uploads/hymera/keyboard/]
The other change I had to make was to the time zone: Europe/Rome is the default time zone. Changing that is also simple, and easy. The gallery below shows how I changed the time zone:
[album: http://linuxbsdos.com/wp-content/uploads/hymera/time/]
One other surprise awaits you when you launch Nautilus, the file browser: The names of most of the folders in the home directory are in Italian. That's not a big deal because even if you cannot read Italian, it's pretty easy to figure out what the folders should hold. There is. for example, the Documenti folder. That's for holding all your documents. Others are Immagini (Images), Modelli (Models), Musica (Music), and Pubblici (Public). The last folder with an Italian name is called Scaricati. Now, what the heck is Scaricati? Google translate says that means Downloads. Nice to know.
Personally, I don't mind having the names of these folders in Italian. If nothing else, it serves as a constant reminder to the user that Hymera Open is an Italian distro.
Nautilus file browser

By default, Nautilus is configured to open folders in situ. That's much better than opening a folder in a new tab or new window.
Nautilus with the Immagini folder opened in place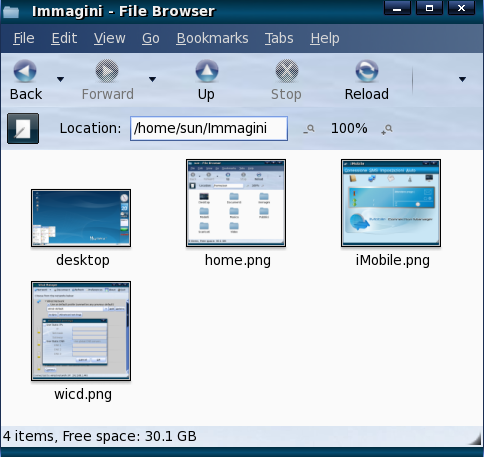 An aspect of the default system configuration that I don't like is that image files are automatically opened in the GIMP, the GNU Image Manipulation Program. By default, image files should be opened in a photo or image viewer. GNOME's official image viewer is the Eye of Gnome. Here's how you tweak the system to open image files in the Eye of GNOME (view the gallery):
[album: http://linuxbsdos.com/wp-content/uploads/hymera/viewer/]