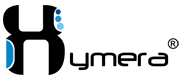 Hymera Open is a desktop-oriented, GNU/Linux distribution. Based on Debian, it's one of several editions of the Linux operating system published by Hymera Engineering S.r.l, an Information Technology firm based in Milan, Italy. Hymera Open is one of the best distros I've ever reviewed. This post is just a simple tutorial on how to create a new user account on the system.

Creating a new user account on Hymera Open is pretty easy, for experienced users, but for those new to Linux and are using Hymera Open, here's how it's done. To begin creating a new user account, launch the user settings utility from Hymera > System > Administration > Users and Groups. The window that opens should look just like the one below. Because creating a user account requires root privileges, you will first need to authenticate. To do that, click on the Unlock button.
Users and Groups management utility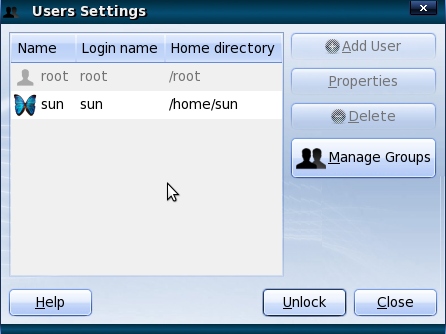 After authenticating successfully, click on the Add User button. That should bring up a three-tabbed window.
Users and Groups management utility after authentication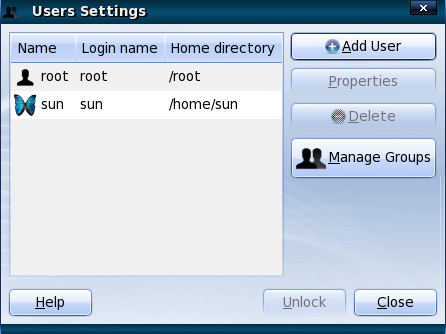 On the Account tab, specify the required info for the new user you want to create. The section under Contact Information is optional. Specify a strong password or let the system generate one for you. Click on the User Privileges tab.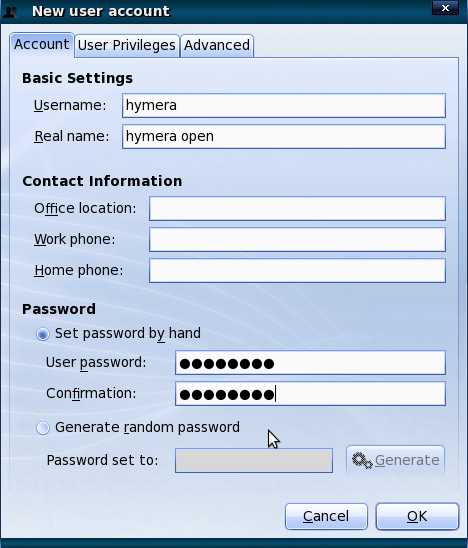 The User Privileges tab is where you specify the level of access you want to grant the user. If this is a guest account or an account for a user that you do not want to have access to root, make sure to not select the Super user permissions option. Click on the Advanced tab when you have finished with this tab.
Specifying user privileges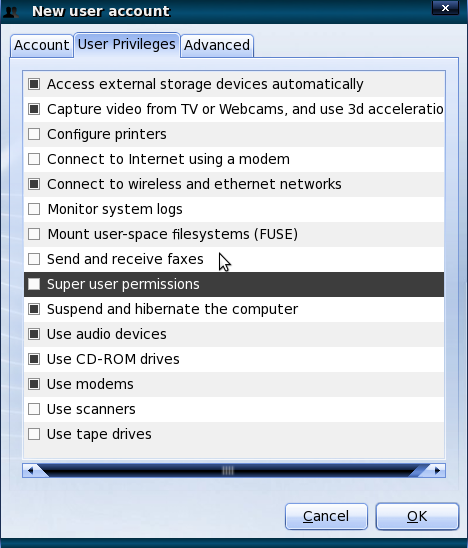 You do not have to make any changes on this tab. The system will automatically assign the user to its main group, and assign additional groups (to it) based on the options you chose on the User Privileges tab. Click OK.
Advanced user settings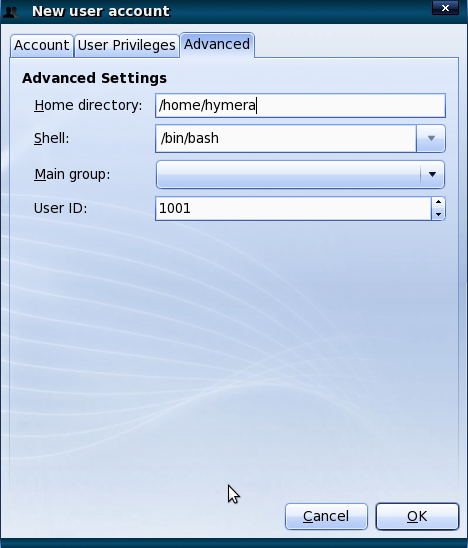 That brings you back to the Users and Groups "home page." The user you just created should appear here. Unless you want to create additional users or want to make other modifications, click Close.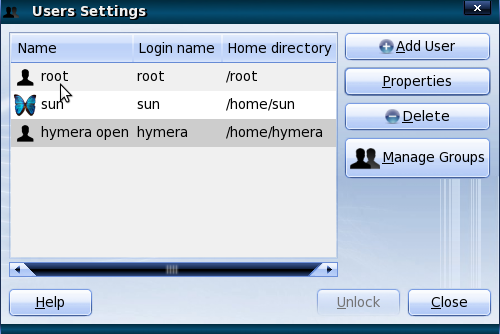 That's all. If at any time you wish to delete this user account, come back to the Users and Groups utility, select the user, and click on the Delete button.