Administration:
Many of the admin tools are accessible from the menu, but also from within the Control Panel, itself accessible from Zenwalk menu > System > Control Panel. The only discernible difference between the Control Panel on Zenwalk 6.2 and that of prior releases is the inclusion of Firestarter, a graphical setup and configuration frontend for IPTables.
In the last version of Zenwalk, Zenwalk 6, the display tool did not work. While this is not a Zenwalk-specific problem, it is worth pointing out that the display tool now works: You can now change the screen resolution. The Display tool is accessible from Zenwalk menu > Settings > Display, and also from the Xfce 4 Settings Manager
Display tool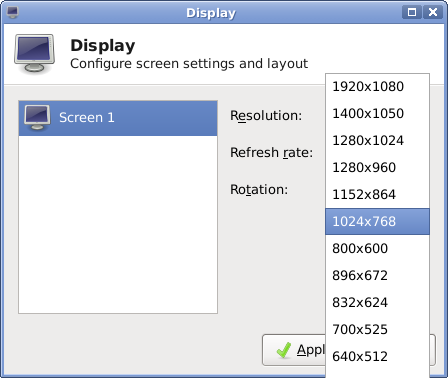 Managing users on Zenwalk is as easy as launching the userconfig tool and selecting from one of the available options. While creating a user involves a lot more steps that on other distros, even a noob will not have a problem creating one. But if you do need help in creating users on Zenwalk 6.2 or earlier, there is a tutorial here just for you.
User Profiles manager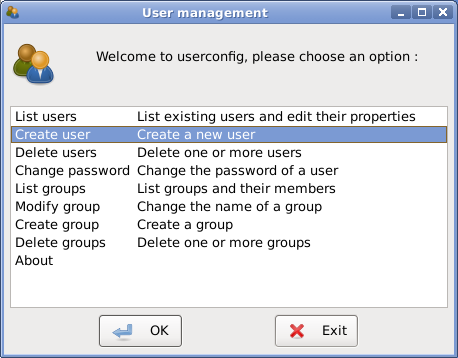 Media and Hardware Detection: Zenwalk 6.2 does reasonably well when it comes to media and hardware detection. Audio CDs will open in Goobox, the default CD player on Xfce. Exaile, which is much better than Goobox, is also installed, and should have been the default CD player. Video DVDs will open in Totem, but the plugins required for commercial (encrypted) DVD playback are not installed, and are not in the repos – Current or Restricted. VLC, another video player, is in the Restricted repos, but like ZUT, the Zenwalk Update Tool, it is buggy, and does not play.
Distros like Pardus and Mint will auto-detect and configure a printer when one is connected to the system. With Zenwalk, however, you will have to manually configure any printer that you connect to a running system. It's a simple three-step process, but this type of task should be handled by the operating system – automatically. Here's a short tutorial on how to add a printer to a Zenwalk 6.x box:
Note: The assumption here is that the printer is locally connected, and not somewhere else on the network.
1. Launch the Printing tool from the Control Panel (also from Zenwalk menu > Settings > Printing, and Zenwalk menu > System > Printing). Click on the drop down as shown below and select Printer.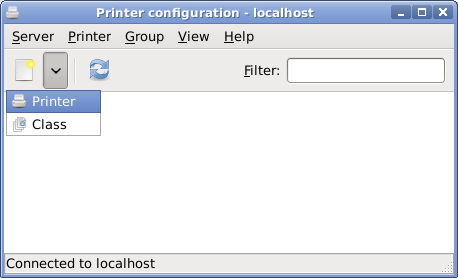 2. The next screen will show the printer(s) connected to the machine (there is auto-detection, but no auto-configuration.) Select the printer you wish to configure and click the Forward button.

3. Here is where you name the printer. Click Apply.

4. With the printer configured, you may print a test page just to be sure that the setup was successful. That's all there is to setting up a printer on Zenwalk.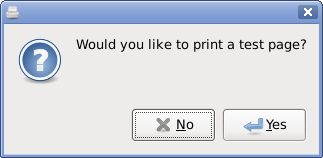 Browsers and browser plugins: Iceweasel is the only browser installed. It will render flash content, and that's just about it. JRE, the Java Runtime Environment, is not installed. It is, however, in any of the Current repos, and installing it and testing the browser for Java compatibility is a breeze. Aside from Iceweasel, you will also find GNU IceCat in the repos. GNU IceCat is the freer version of Mozilla Firefox.
Security Tools and Network Manager: Zenwalk 6.2 now ships with a graphical frontend to IPTables, the Linux firewall application. However, it is not enabled by default. You may use this tutorial, if you need assistance in setting up Firestarter, to enable and configure it.
There are no VPN apps installed, but openVPN and vpnc are in the Current repos.