More on ICMP Filtering
As mentioned earlier, Firestarter allows ICMP messages by default, with some throttling applied to provide some protection against flood attacks. You may choose to change the default behavior by checking the box next to "Enable ICMP Filtering."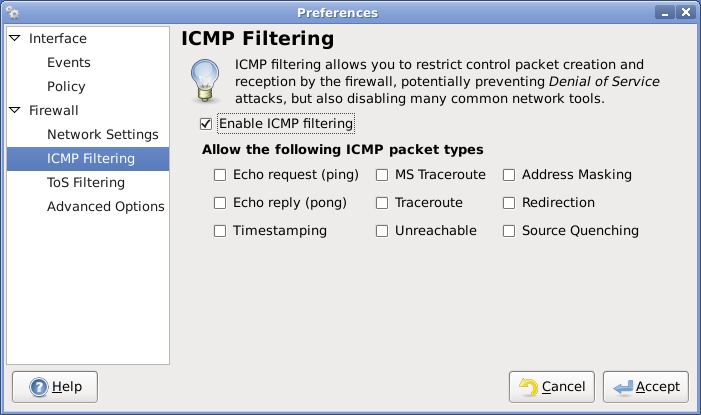 If you "Enable ICMP filtering" without enabling any of the options under "Allow the following ICMP packet types," all ICMP traffic to the PC will be blocked. Even a ping, an ICMP echo request message type will be blocked. By viewing the blocked messages as shown in the screen shot below, you will see the blocked ICMP traffic hitting the PC.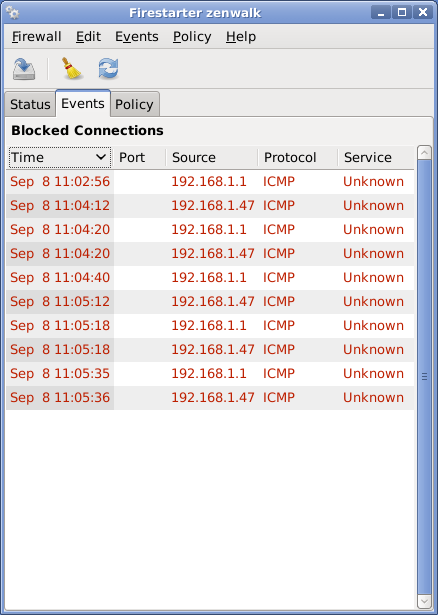 If you must modify Firestarter's default handling of ICMP traffic, it is recommended that you – at a minimum – allow the following ICMP message types:
echo request and echo reply: Echo request and echo reply message types are used by the ping program for testing host reachability.
Traceroute
(Destination) Unreachable