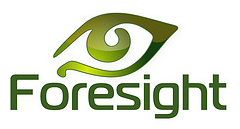 Foresight is a Linux distribution built around the Conary package management system. The Foresight dev team maintains separate DVD install images for Gnome- and XFCE-based desktops for 32- and 64-bit architectures. There is also a CD install image, the Lite edition, a Kids edition, and a Mobile edition for netbooks and ultra mobile PCs. For this post, we review the Gnome-based edition of Foresight Linux – version 2.0.6.

Note: This review is based on a default installation with all updates applied.
Installation: Foresight uses a much older version (version 11.3.0.44) of the Anaconda installer, a graphical installer with an alternate text-based mode. LVM is supported, but not the default partitioning scheme. Software-based RAID is also supported. By default, the installer creates three partitions – /boot, swap, and /, with ext3 as the preferred journaling file system. Xfs is the only other journaling file system option. If you prefer to configure LVM, we have written a step-by-step guide on how to create a custom LVM partitioning scheme on Foresight
Unlike the installers of Debian, Fedora, and Mandriva, Foresight's installer does not have built-in support for creating encrypted partitions or LVM volumes. The default bootloader is EXTLINUX, with GRUB as an option. Foresight is the only distro we have reviewed that uses EXTLINUX as a bootloader.
Default Installed Application: The Gnome-based edition used for this review features the stock default applications typical of most Gnome-based distros: Aside from the usual set of desktop accessories and Gnome games (Blackjack, Chess, FreeCell Solitaire, Mahjongg, Sudoku, Tetravex, etc), the following applications are installed:
F-Spot Photo Manager
GNU Image Manipulation Program (GIMP)
OpenOffice.org 3.0, a free and open source alternative to Microsoft Office
Mozilla Firefox 3.0.3
Ekiga, the VoIP and video conferencing application
Pidgin, the instant messaging (IM) client formerly known as GAIM
Evolution, the email and calendar application
Banshee Media Player
Totem Video Player
As with all Linux or BSD distributions, virtually all applications that you could ever need are freely available, and you could easily install them using Conary, the package manager used by Foresight.
Software Management: Managing applications on Foresight Linux is via the Conary package manager. Aside from calling Conary from the command line, you could also use the gpk-application (version 0.3.11), a graphical package manager for the Gnome desktop environment, which is accessible from either Applications Menu > Add/Remove Software, or System > Administration > Add/Remove Software. Be aware that gpk, at the time of this review, is unusable. When using any feature of gpk, for example, an error message, shown in the screenshot below, is generated. So for all software management tasks, installing, uninstalling, upgrading applications and the system, you will have to call conary from the command line.

Administration:Rather than the traditional UNIX root user account, Foresight uses sudo to grant access to admin privileges. Because Foresight doesn't have a "Control Center", access to most admin tasks is via System Menu > Administration, System Menu > Preferences, or Applications Menu > System Tools .
Media and Hardware Detection: What happens when you insert a multimedia CD or DVD into a PC running your favorite Linux or BSD distro? What happens when you plug in a digital camera or Web cam? Does it automatically detect the action, launch the appropriate application, and await further input from, or does it just sit there wondering, "what the heck is he doing to me?"
With regards to the above, Foresight does not fail completely, but it also does not pass with flying colors. It fails when a DVD video is inserted: Rather that launch Totem, Foresight opens the contents of the DVD in Nautilus, a file browser. Not exactly what you expect.

<!-smartads->
It also fails when an audio CD is insert (see screenshot below). If you launch Banshee Media Player from the menu, however, it will gladly play any audio CD.
Foresight responds as expected when a digital camera is plugged in (see screenshot below).
The Linux operating system does pretty well when it comes to hardware detection. Some distros go beyond automatic hardware detection, and add automatic hardware configuration and setup to their list of features. When a printer is plugged in, for example, a few distros will not only auto detect it, but will auto configure and have it ready, accepting jobs, with no input from you. Foresight does a pretty good job of auto detection, but will let you do the configuration if you plug a printer in. We should point out that configuring a printer is a simple three-step, point-and-click process