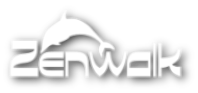 The Zenwalk team has announced the release of Zenwalk 5.2 beta. Zenwalk is a GNU/Linux distribution optimized for the i686 instruction set. This beta release heralds a few new features, the usual package updates, and bug fixes.

On the new features, we find:
The package manager, netpkg "new generation" v4, has been completely rewritten in Perl-GTK and many features have been added making this already great application even greater. Mplayer is provided with the latest dvdnav (DVD menus support). The powerthend adds cpu scaling daemon and control script. Suspend/resume system has been improved.
And for the updates:
As usual for each release, the desktop has been refreshed with new artwork. Almost all packages have been updated or rebuilt, to be noticed we find: Linux kernel 2.6.25.4, Xfce 4.4.2.
The content on the Zenwalk page on this site is based on the last stable version. That page will be updated when the next stable version becomes available.