Linpus is a Linux distribution developed and supported by Linpus Technologies, Inc., a company based in Taipei, Taiwan. It is very popular in Asia, with a significant market share in Taiwan and China.
[warning]Linpus Linux 9.x is no longer available for download. See this forum post for details.[/warning]

Origin – Home Page: Taiwan – Linpus Linux
Desktop: Gnome (default), KDE, and Linpus-3D desktops (Compiz Fusion and Avant Window Navigator – AWN).
Price: Free and Open Source.
Installer: Linpus Linux 9.6 sports a brand new installer. Dubbed Sapphire, it has the feel of Anaconda (the installer for Fedora) sans the advanced features, and it's much better than the pre-9.6 installer, which was based on the old Mandrake (now Mandriva) installer. Sapphire lacks support for LVM and RAID, and other than swap, you can only choose from ext3 and ext2 filesystems: No reiserfs, jfs, or any other journaling filesystem. GRUB (GRand Unified Bootloader) is the bootloader. No choice there.
Sapphire has two install modes – Express and Standard. Express mode is a mostly automated 3-step process, while Standard is a manual process, good if you want to control what's installed. Installation can be carried out in three languages – English, Simplified Chinese, and Traditional Chinese. The option to enable/disable the firewall is presented during installation.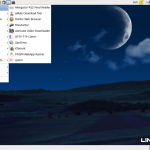 Multimedia/Internet: Of all the Linux desktops – with Gnome as the default desktop environment – that we have reviewed, Linpus has the most comprehensive set of applications installed by default. It is the Gnome equivalent of Sabayon, but with a much better organized menu.
Totem, Kaffeine, and MPlayer are your options for playing video files or media (Totem is the default). Because Linpus – like Fedora and Mandriva – defaults to using Fluendo's Codeina Codec Installer service, they are unable to play commercial video or any multimedia content out of the box.
<!-smartads->
For Internet communication, Linpus provides several options – Pidgin, Kopete, aMSN Instant Messenger, Skype 2.0, and Ekika (VoIP and video conferencing application). Amarok, Rhythmbox, and Sound Juicer are the audio player options. Amarok is the best and you may want to set it as the default audio player.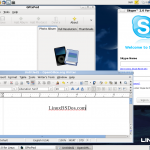 Firefox 3 is the only browser installed in the system, and it will handle flash content and nothing else. For rendering quicktime or any other multimedia content, you are required to use the Codeina Codec installer service.
Productivity/Utilities: OpenOffice.org, a free and open source office application similar to Microsoft Office, is installed. Aside from OpenOffice.org and the stock set of desktop utilities and applets, the following are also installed:
HomeBank 3.5 – free personal accounting software with support for multiple accounts, and scheduled automated transactions
Planner – open source project management application
Amaya – Document editing/authoring and Web browser (better as a document editor than as a Web browser)
Security: Sapphire, the Linpus installer, gives you the option to enable/disable a firewall during installation. For managing and configuring the firewall, Linpus uses system-config-firewall-py, the same firewall client used in Fedora. VPN connections are configurable from the network manager applet, but a VPN application is not installed.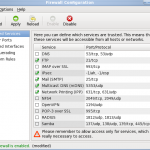 For gaining access to admin privileges, Linpus uses the traditional root user account, and not sudo, which is used by Ubuntu and other distros based on it.
Games/Graphics: Linpus features the stock set of Gnome desktop games. The lone 3D game installed is Scorched 3D. For graphics, the options are many: digiKam, F-Spot Photo Manager, GIMP (GNU Image Manipulation Program), Inkscape (Vector graphics editor), GpixPod (iPod photo manager), XSane image scanner, and a few others. DigiKam appears to be buggy, and will force a logout when importing images from a camera.
Administration: In addition to being able to access admin tools from the dropdown menu, Linpus, like Mint, has a Control Center (Linpus Start > System > Control Center). Synaptics is available for managing applications, and you can add additional (third party) repositories using a graphical tool (Linpus Start > System > System Tools > Linpus Online Update Manager). With Linpus 9.6, you can perform virtually all admin task without ever needing to use the command line.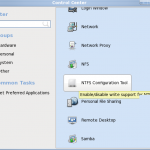 Miscellanea: Linpus 9.6 is almost like a breath of fresh air – almost. Features like LVM and RAID support that are missing in Sapphire, the redesigned installer, and the Codeina Codec installer service are show-stoppers for us. However, if you have no need for those features, and can find a way around Codeina (it's actually easy) then we will not hesitate to recommend it.
The thing that we especially like about Linpus 9.6 is that just like Sabayon, it, by default, caters to all user types – from the average (end) code user to the expert code writer. For open source code writers, Glade Interface Designer (for GTK and Gnome), Qt4 Designer, and Qt4 Linguist are accessible from the main menu. Qt, a product of Trolltech (recently acquired by Nokia), is a C++ toolkit for cross-platform application development.
Here are a few things we would like to see in the next major Linpus update:
Dump Codeina Codec installer service
Dump Codeina Codec installer service
LVM and RAID support in the installer
More journaling file system support. Ext3 is good, but it's not the only one available
Download Free iso images may be downloaded here.