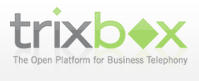 "trixbox®, spelled with a lowercase 't', is a line of Asterisk®-based IP-PBX products designed to meet the needs of companies from 2 to 500 employees. trixbox comes in two flavors: the open-source community edition and a hybrid-hosted, commercially-proven solution." Like other distros in its category, trixbox is a Linux distro with Asterisk® pre-installed, and that makes it easy for anyone to set up an IP-PBX (Private Branch eXchange) system.

Origin – Home Page: USA – trixbox
Management Interface: Console CLI and Web-based graphical user interface (GUI)
Price: The community edition and the entry-level pro version – trixbox CE and trixbox Pro SE – are free. The Pro EE (Enterprise Edition) and CCE (Call Center Edition) versions are subscription-based. There is also a trixbox appliance which can be bought pre-loaded with either trixbox CE or trixbox Pro.
Comments: trixbox is the new name for what used to be called Asterisk@Home, and it's produced by Fonality, a company based in Los Angeles, California USA. trixbox CE is based on CentOS 5.1 kernel, and trixbox Pro is derived mostly from Fonality's commercial IP_PBX solutions.
The installer for trixbox CE is menu driven and is almost automatic, offering very little options for customization, and has no LVM support. On the other hand, the installer for trixbox Pro CE is essentially the same as that for AsteriskNOW, differing only in the fact that LVM partitioing is the default (AsteriskNOW has LVM support, but it's not the default partitioning scheme).
<!-smartads->
Aside from english, the management interface for trixbox (Pro or CE) has support for six other languages – estonian, french, portuguese, spanish, swedish, and turkish, and the admin can update and add addtitional trixbox packages from within the GUI. The versions used for this post, trixbox CE and Pro SE, has no configuration backup and restore.
One of the coolest features of trixbox is HUD (Head's Up Display. View an interactive HUD demo), which allows you view the status of all of the extensions on your phone system and chat with everyone. Only the lite version of HUD – HUDlite – is available on the trixbox CE.
Fonality provides a free in-service network known as trixNet, that allows companies to make free long distant calls if any of the phone numbers is in trixNet. trixNet is only available if both calling parties are using trixNet Pro, but Fonality hs said they are working to make it usable with trixbox CE.
Download/Buy: trixbox CE and Pro SE are free. You may download trixbox CE from here, and trixbox Pro here. The trixbox appliance, which can be pre-installed with trixbox CE or Pro versions, is available for purchase from Fonality.
Tutorials/Tips: Tutorials are available at the trixbox knowledge base.