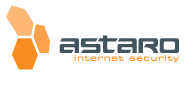 Astaro Security Gateway Home Edition is a Linux-based distro for protecting computer networks. It is one of the very first security products based on Linux, and "integrates complete Network, Web and Mail Security through an intuitive browser-based user interface."

Origin – Home Page: Germany – Astaro Security Gateway Home Edition (HE).
Price: Astaro Security Gateway HE is free (registration required) for home or individual use.
Comments: Astaro Security Gateway HE is truely a full-featured network security solution. Very few products in its category offer the same set of features. Installation is pretty easy, and the browser-based management interface is just about as polished as it gets.
The following are just a subset of the functions performed by this distro: Provides protection against DoS and DDoS attacks, worms, etc; anti-virus zero-day heuristics; VPN access; anti-spam and anti-phishing protection; transparent email encryption; active/active Clustering with integrated load balancing; stateful VoIP support; user authentication via Active Directory, eDirectory, Radius, Tacacs+, LDAP or Local; IPS with real-time signature updates; SPI firewall, transparent proxies; P2P and instant messenger controls; URL filtering.
You may view the base features of Astaro Security Gateway Home Edition as well as that of other distros in the firewall cum router category in the feature overview of Linux and BSD firewall and router distros.
While Astaro Security Gateway HE is free for home or non-commercial use, you are limited to using it with no more than ten IP addresses. That means that a maximum of ten IP addresses, from your LAN, may be passing through is at any time.
Download You may download a CD iso image for installation here. Commercial entities may visit the Astaro Web site for purchasing information.
Tutorials/Tips: A series of excellent easy to follow video tutorials can be found here. You may also play with a live demo here.