VYM (View Your Mind) is a tool to generate and manipulate maps which show your thoughts. Such maps can help you to improve your creativity and effectivity. You can use them for time management, to organize tasks, to get an overview over complex contexts, to sort your ideas etc.
Maps can be drawn by hand on paper or a flip chart and help to structure your thoughs. While a tree like structure like shown on this page can be drawn by hand or any drawing software vym offers much more features to work with such maps.

vym is not another drawing software, but a tool to store and modify information in an intuitive way. For example you can reorder parts of the map by pressing a key or add various information like a complete email by a simple mouse click.
A map can concentrate a very complex content on little space e.g. a piece of paper. It helps to use both sides of your brain: the logical side and also your creative side (e.g. by using pictures, colors and keywords in a map, so called anchors). It is a technique to organize the way you think: It can help you by developing, sorting and memorizing your thoughts.
Because you just use keywords and drawings, it is much faster than good old fashioned notes. Your brain memorizes things by associating them to other things — a map makes use of those connections and stimulates new asccociations.
vym is designed to make changes in the map very easy: e.g. if you use it for time management, just move a task to another place or recolor it by a simple mouse click in order to assign it to another day in the week or to give it a new priority.
There are lots of webpages (see e.g. the Wikepedia links below) and also books out there, providing lots of information on working with maps.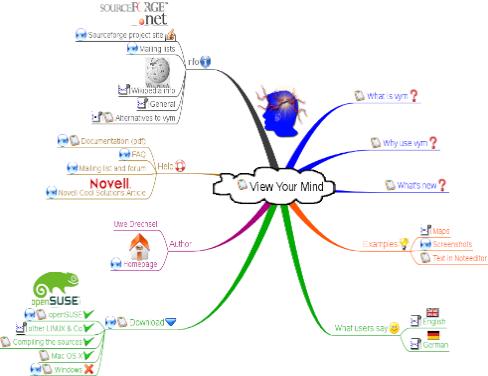 Support for openSUSE, Mandriva. Fedora, Ark Linux, FreeBSD, Debian, Ubuntu, and Gentoo